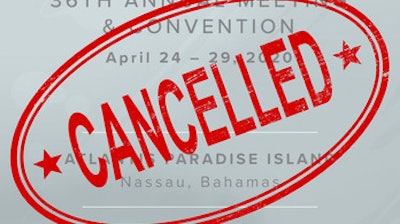 Updated Monday afternoon to reflect NAHAD no longer considering postponing its convention.
Less than a week after updating attendees and members that their upcoming annual conventions were still a go, the Industrial Supply Association (ISA) and National Association for Hose Accessories and Distribution (NAHAD) have announced that their April conventions have been cancelled amid concern over the ongoing coronavirus outbreak.
NAHAD broke the news on Friday, while ISA emailed members on Monday. ISA previously provided an update just three days earlier stating that their event, which was to be April 20-22 in Atlanta, was still proceeding as scheduled.
See ISA's email, noted from association president and CEO Ed Gerber, in full below: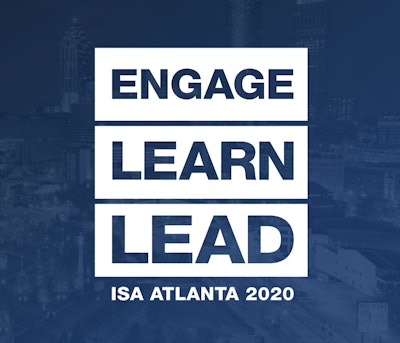 "To all ISA Members and ISA Atlanta 2020 Attendees,
After continuous monitoring of the evolving situation with the novel coronavirus (COVID-19) and much deliberation, the Industrial Supply Association (ISA) is announcing today that the ISA Board of Directors have voted to cancel ISA Atlanta 2020 scheduled to take place April 20-22 in Atlanta, Georgia. Everyone at ISA understands and appreciates the time, effort, and resources that you have put into preparing for this event. Like you, we have been working hard, and were looking forward to coming together to Engage, Learn and Lead.
This decision was made after careful review of the most recent facts from the Centers for Disease Control (CDC), World Health Organization (WHO), the Georgia Department of Public Health and other local authorities. Ultimately, the health, safety and well-being of our members, management team and the community at large led to this decision. Although difficult, as this decision comes at a significant cost to ISA which is a nonprofit, we know it's the right thing to do.
With that in mind, it's important to note that ISA is YOUR ASSOCIATION and ISA is OUR INDUSTRY. With over 118 years of history, our mission is to provide the strategies and tools to help companies remain relevant throughout industry change. This global pandemic, combined with the accelerating disruption we all are facing, demonstrates now more than ever the need for ISA to continue its pursuit of Leading the Channel Forward.
The good news is that we have the financial strength to weather this storm. We plan to access our financial reserves to make that happen. These reserves are intended to protect ISA in times like this and for investing in value-added programs that benefit ISA members and our industry.
With this decision, we are prepared to refund 100 percent of all registration, booth and sponsorship fees. However, recognizing the significant impact on our reserves, we are asking for your consideration in donating your registration, booth fees and/or sponsorships to the ISA Foundation, all or in part, at the level your organization is able to support. Foundation funds will only be used for education, research and/or scholarships and your organization will be recognized as a supporting patron of the Foundation helping ISA continue its mission-critical purpose. Your donation will help continue the momentum and fuel the future of the Industrial MROP Channel. We recognize the magnitude of this ask, but if each company can help in some way, together, we will strengthen ISA, our community and industry overall.
In the coming weeks, a member of the ISA team will contact all ISA Atlanta 2020 participants to discuss refunds and or donations. Due to the large number of companies and attendees we ask for your patience as we begin this process. This is a priority and will be given the urgency it deserves.
In closing, I would like to thank everyone that has reached out with overwhelming support and positive feedback regarding the path and mission we are on. To all, please keep an eye out for upcoming announcements regarding the Lifetime Achievement Award, Innovation Impact Awards, Phase 2 Analytics for Distributor, Manufacturers and IMRs, Scholarships and so much more.
On behalf of the ISA Board of Directors, I would like to thank you for your patience throughout this decision-making process and your commitment to your association – ISA."
Edward Gerber
President & CEO
In an announcement on the NAHAD website, association executive vice president Molly Alton Mullins said NAHAD executive committee held a conference call to assess the coronavirus situation and its effect on hosting the annual meeting and convention event.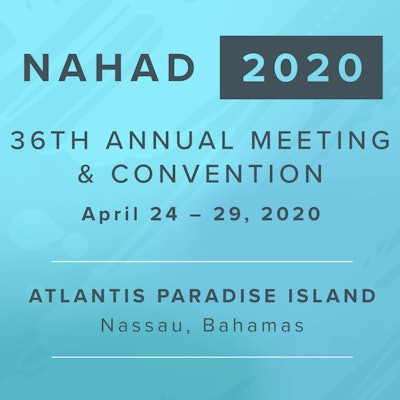 In NAHAD's Friday announcement, Mullins said the association was considering postponing its event — which was scheduled for April 24-29 in The Bahamas — until Aug. 29-Sept. 2 if there was enough interest in it from members. NAHAD posted an update Monday afternoon saying that interest didn't pan out and that no convention will be held during 2020.
Read Mullins' full Monday update below:
"Thank you to the almost 300 NAHAD members who completed the survey I sent Friday regarding rescheduling NAHAD's 2020 Annual Meeting & Convention. Your feedback was essential in helping NAHAD's leadership come to a decision.
As a result of your comments, NAHAD will NOT host an Annual Convention in 2020. Only about a third of you stated you would attend the Convention if held in late August and about 25 percent of you said hosting a convention that late in the year would impact your attendance in 2021. This was an incredibly difficult decision, but ultimately the right one for the health of our members and long-term success of the association.
Please know if you were registered to attend the Convention, you will be refunded in full. Our meetings and finance departments will work through this process and all refunds will be processed within the next 30 days. Additionally, the Atlantis will cancel all room reservations for you directly. You do not need to call the property to cancel if you booked through the NAHAD room block; if you booked outside of it, you will need to cancel your room directly.
We still plan to hold NAHAD's Annual Meeting of Members virtually in April. Please look for additional communications from me in the coming weeks. A lot of exceptional initiatives have occurred during the past year and NAHAD's leadership looks forward to sharing these efforts with our membership.
I will continue to share new developments as they occur and thank you for your support and your patience during these past few weeks. NAHAD WILL host an upcoming Convention at the Atlantis, and more details on future conventions will be shared as soon as possible."
All the best, Molly
The ISA and NAHAD developments follow the cancellation of Grainger Show, which was to be held March 15-17 in Orlando, FL, and Fastenal's cancellation of its annual customer expo, which was to be April 14-16 in Aurora, CO. And on Thursday, AD (Affiliated Distributors) announced that it is shifting its two March networking meetings to a virtual format, while decisions over the group's April meetings are being tabled.