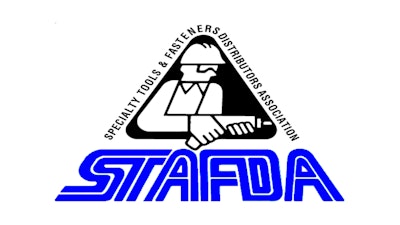 Navy SEAL…Army Ranger…Air Force Tactical Controller…Ultra-marathoner. That can only describe one man: David Goggins. The Specialty Tools & Fasteners Distributors Association (STAFDA) will welcome him to its 43rd Annual Convention & Trade Show, November 10-12, at the Music City Convention Center in downtown Nashville. Goggins will address STAFDA attendees during his keynote presentation at the General Session on Monday, November 11, which is, appropriately, Veteran's Day.
Soldiers are the toughest breed on the planet, but this man is the toughest among them. He fought for America for 21 years, has completed over 60 ultra-marathons, triathlons, and ultra-triathlons, setting new course records and regularly placing in the top five. One of his most remarkable achievements was the Mont Blanc 100-mile race. In this race, Goggins had to complete 100 miles in 24 hours. After 70 miles, his body shut down. He was on the brink of death, but he didn't stop. That's why he's dubbed the toughest man in the world and Outside magazine calls him the "Fittest (Real) Man in America."
Sadly, poverty, prejudice, and physical abuse colored his childhood, but through self-discipline, mental toughness, and hard work, Goggins transformed himself from a depressed, overweight young man with no future into a U.S. Armed Forces icon and one of the world's top endurance athletes. He has a huge Instagram following and is one of the country's most sought after speakers: from addressing Fortune 500 companies, to sports teams, and on November 11, STAFDA members.
Goggins is all about shutting up the voice in your head that says "I can't do this." He has some of the most motivating and "hair-on-the-back-of-your-neck" raising stories but his big message is that the only person in control of your destiny is you.
STAFDA's 43rd Annual Convention & Trade Show in Nashville is for members only. Registration materials will be mailed to all members in late June; online registration opens on Monday, June 24, at 8:00 a.m. (Central) from the members-only section of www.stafda.org.
For more information on the STAFDA Convention & Trade Show or membership, contact Catherine Usher, at cusher@stafda.org, 262/784-4774 or 800/352-2981.