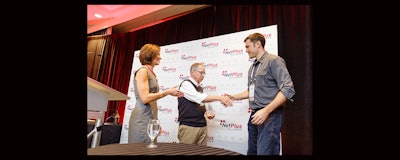 LOCKPORT, NY — NetPlus Alliance, a buying group with more than 390 industrial and contractor supplies distributor members, hosted its fourth-annual meeting Oct. 8-10 in Orlando, FL.
The theme of the annual meeting, "Focused on the Future," represented the group's commitment to meet change head-on, and grow and adapt in a fast-changing distribution market.
"No matter the industry — especially those with as deep a history as ours — people hold tightly to their heritage," NetPlus Alliance President Jennifer Murphy said in her annual message to members. "Our values must remain the same, because they are what make us strong. But we must translate our product knowledge, strong customer relationships and pride in the industry for today's buyers. They must be coupled with digital practices — e-commerce, digital marketing, CRM and more – that can position you to compete against the Amazons of the world, as well as help you gain a clear edge on your smaller competitors who may not be willing to invest."
In the spirit of focusing on the future, NetPlus Alliance unveiled their new brand and logo at the year's annual meeting. The updated NetPlus Alliance logo reflects the company's heritage, but has a modern look and feel, with a slight slant that reminds them to stay focused on the future. With the brand update, the group's website and member portal will both get a new look and improved functionality in 2018.
This year's Annual Meeting was the largest attended to date, with 109 distributor member companies and 114 preferred supplier partners. Over two days, more than 1,500 booth-session meetings were held between distributors and manufacturers; members also attended educational sessions hosted by manufacturers, NetPlus Alliance, and industry experts. Keynote speaker Dr. Al Bates, founder and director of research of the Distribution Performance Project, spoke with meeting attendees about how to improve their profitability.
Along with the new look, NetPlus announced a major new program, the NetPlus Academy. Initially this will be a partnership with online education program Tooling U-SME and on-campus training at Texas A&M University's Global Supply Chain Laboratory. NetPlus also announced a partnership with digital content provider Codifyd that will support distributors' digital journeys.
NetPlus Alliance presented its annual member awards at the meeting:
The Growth Plus Best in Class sales planning award went to M&M Sales & Equipment and Drillco Cutting Tools, which developed a joint sales-planning program that resulted in significant growth together.
The Distributor Engagement Award was presented to Penn Tool Sales & Service, which has achieved Diamond status for the past two years with NetPlus thanks to its ongoing and consistent growth with NetPlus suppliers.
The Marketing MVP Award was given to Milwaukee Tool. The award is presented annually to a company that develops a strong marketing and brand partnership with NetPlus and its distributor members.
The Partnership Excellence Award is presented annually to a true advocate for NetPlus Alliance. This year's was awarded to Jeremy Kirkpatrick of M&M Sales & Equipment.
NetPlus's 2016 Supplier of the Year was Simpson Strong-Tie Anchor Systems, a preferred supplier with NetPlus since 2008 that saw strong double-digit same-store growth with NetPlus distributors year-over-year. The award is based on total NetPlus purchases growth, count of new distributors, and same-store purchases growth.
The 2016 Distributor MVP was Ohio Power Tool, which achieved Diamond status in NetPlus last year. "This distributor has an aggressive e-commerce strategy, and is a great example of building content and knowledge through social networks and digital media," Murphy said upon presenting the award to President Jay Amstutz.
The Dan Judge Founder's Award was presented to Skip DeVilling of DeVilling & Associates. "He has genuine enthusiasm for the industry and is a great friend to both myself and my father," Murphy said.
During the JET-sponsored opening party, supplier JPW Industries also recognized Fastool as a member of their Million Dollar Club, noting that they were their fastest-growing NetPlus distributor.
This year marked NetPlus Alliance's 15-year anniversary.
The 2018 NetPlus Alliance Annual Meeting will be held on Oct. 6-9, 2018, at the Sheraton Grand at Wild Horse Pass in Phoenix, AZ.