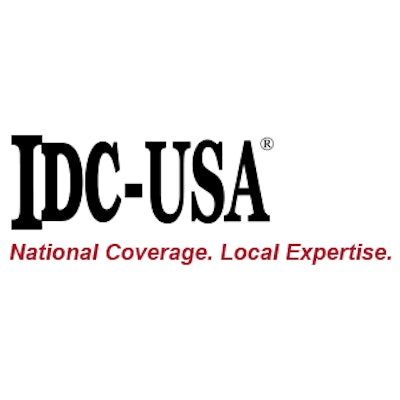 INDIANAPOLIS — IDC-USA's ambitious 2020 Vision includes significant growth for the cooperative's distributors and suppliers. Plans were unveiled during the IDC Product Forum held in Indianapolis, IN. Nearly 300 IDC Distributors and Suppliers enjoyed three days of golf, networking, business meetings and exchanging ideas, where new supplier programs and a new eCommerce software platform were viewed.
During the business meeting, IDC-USA announced new programs with Associated Dynamics, Slideways, Telco Sensors, Standard Locknut, Scheerer Bearing, Nachi Robotics, B & B Manufacturing and Hitachi Maxco. Bob Callahan, Hitachi Maxco Executive Director, stated, "We are grateful to IDC-USA for delivering programs that address and clearly define a strong future. Hitachi Maxco is honored to now be part of the IDC Family." Additionally, IDC Select, the proprietary brand of IDC Distributors, announced the expansion of its product offering to include motors and keyless locking devices. This gives IDC Distributors more options in the marketplace.
The introduction of IDC Marketplace was met with great enthusiasm by distributors and suppliers alike. This private, multi-vendor online shopping mall will enable IDC Distributors to purchase products from IDC Preferred Suppliers via a single, secure website. IDC Marketplace will also have mobile capabilities allowing members to purchase product from their tablets and smartphones. IDC Marketplace is expected to launch later this year.
One highlight of the meeting was the Awards Dinner where IDC-USA recognizes outstanding distributors and suppliers. The following business awards were presented:
Rookie of the Year Award – Industrial Power Transmission
Ground Gainer Award – Drives & Conveyors
Leader of the Pack Award – Weimer Bearing & Transmission
Top Dog Award – Bearing Distributors
IDC Direct Supplier of the Year Award – Isostatic Industries
IDC Supplier of the Year Award – Bando USA

This was the seventeenth time Bando has been voted Supplier of the Year by IDC Distributors. Bando does not take this prestigious honor for granted. "All of us at Bando USA appreciate the significance of being awarded IDC Supplier of the Year. Having been recognized among a great group of suppliers can only be attributed to our dedicated associates who strive to deliver excellence in overall quality and service. They take pride in doing their best to provide a great IDC experience. We also realize the bar gets raised a little higher every year and in knowing that, we'll continue to work hard to strengthen the trust of the members," reflected Joe Laudadio, Bando President and CEO.
IDC-USA was also honored to have Quinn Buckner, TV analyst for the Indiana Pacers, conclude the Awards Dinner. His inspirational life story and words of encouragement underscored the passion and drive that makes distributors and suppliers successful.
Throughout all events, there was a strong sense of comraderie as attendees embraced the need to grow together and become an even stronger force in the marketplace. "We are revolutionizing the way we do business to be ready for the future. In addition to technology, we are partnering with dedicated independent distributors and suppliers who will help us achieve our 2020 Vision." stated Jack Bailey, IDC President and CEO.
Established in 1988, IDC-USA is a distributor-owned purchasing and national marketing cooperative of independent distributors of industrial bearing, power transmission and industry related products. The cooperative is comprised of hundreds of independent distributor locations nationwide. IDC-USA's Distribution Center, IDC University and Corporate Offices are headquartered in Indianapolis, Indiana. IDC-USA serves the western half of the United States from its Reno, Nevada distribution center.