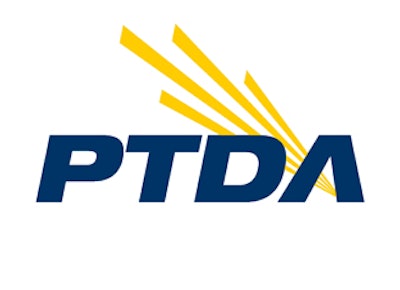 CHICAGO — Industry support for the PTDA (Power Transmission Distributors Association) Foundation's signature project, the Industrial Careers Pathway (ICP), reached record heights in 2014, surpassing all expectations with a final total of nearly $310,000. This was more than 50 percent higher than the funds raised in 2013, demonstrating an increasing commitment from the industry in reaching the future industrial distribution workforce.
According to Brian Short, 2014 PTDA Foundation Fund Drive Chair (NSK Americas, Ann Arbor, Mich.), "We started off the year with a three-year commitment from the Harold C. Schott Foundation, and it just ramped up from there. Industrial distributors and the manufacturers they support clearly recognize the challenge in attracting the right people to the incredibly rewarding careers in industrial distribution. This funding is being put to use immediately in getting those right-fit employees to recognize the wonderful opportunities industrial distribution provides."
The momentum continues. The 2015 fund drive kicked off in October at PTDA's 2014 Industry Summit. The Vanguard campaign, recognizing those who pledge to the 2015 Fund Drive before year-end 2014, is off to a record start. Even before the end of the Industry Summit, the Vanguard campaign had received pledges in excess of $57,000. Vanguard contributors enjoy a few special perks due to their early contribution, including immediate inclusion on the ICP website at www.industrialcareerspathway.org/Support.
"The early contributors help set the tone for the fund drive, allowing ICP to make aggressive plans in 2015 for reaching our target audience of 16-34 year olds with a knack for applied technology," said Short, who has held the role of Fund Drive chair since 2012.
Fund Drive Highlights:
Contributors included 154 companies from within the power transmission/motion control industry—an increase of 32 percent.
Twenty-two contributors increased their contributions in 2013 over 2014.
There were 69 new contributors in 2014 — a 331 percent increase!
The PTDA Foundation, a 501(c)(3) corporation whose work is funded solely by donations, was founded in 1982 to enhance knowledge, education, professionalism and productivity within the power transmission/motion control (PT/MC) industry.
The Foundation's core initiative, the Industrial Careers Pathway, is a multifaceted North American workforce initiative. Addressing the need for a skilled industrial distribution, manufacturing sales and customer service workforce for today and tomorrow, ICP links students and job seekers through partnerships with local educators and employers. Through the collective support of Alliance Partners and their member companies, ICP is devoted to building awareness among the 16-34 year old audience about the rewarding careers available in industrial distribution.