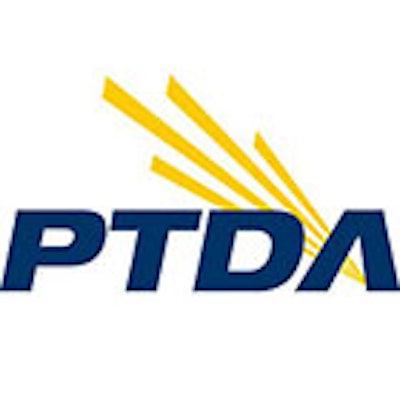 CHICAGO — The Power Transmission Distributors Association (PTDA) has named Kevin McCloskey, Category Manager, Kaman Industrial Technologies Corporation, the 24th recipient of its Warren Pike Award for lifetime achievement in the power transmission/motion control (PT/MC) industry.
McCloskey received the award, named for PTDA's co-founder and first president, at the Association's Industry Summit in Orlando, Florida. The award was established in 1984 to honor individuals who have demonstrated outstanding, continuous, long-term support of PTDA and the PT/MC industry, and is only presented when an individual's achievements merit this prestigious recognition.
McCloskey has been and still is very involved with PTDA. He has served on numerous committees and task forces and is currently a member of the Research & Innovation Committee. McCloskey also served on the Board of Directors from 1996-2002 and as the board president in 2001.
"Professionally, Kevin is always willing to give of himself, his time and his expertise to PTDA and to the industry as a whole," says Doug Savage, President of Bearing Service Inc.
David Mayer, VP marketing & services for Kaman Industrial Technologies Corporation adds, "Since Kevin joined Kaman in 2005, he has been a trusted source, mentor and advisor for our entire team. He has a unique passion for our industry and an encyclopedia-like knowledge about our products and their application."
"Kevin has been a great partner through the years for Dodge," says Jeff Moore, VP marketing & mechanical power transmission for Baldor Electric Company. "He collaborates well with our whole organization and works to achieve not only the best solution for Kaman, but also for the manufacturer as well. The thing I appreciate about Kevin is his transparency, if he doesn't like something he will tell you. It's easy to have a trusting relationship when you can have frank conversations with a channel partner and Kevin has always been one of a handful of people who will roll up his sleeves and work to achieve a mutually beneficial result."
Warren Pike Award recipients are selected by the PTDA Board and are not informed of the honor in advance. McCloskey graciously accepted the award, stating, "So you let a guy come [to the Industry Summit] for 25 years, and you teach him how to survive in this business, and then you give him an award. I very much enjoy this business and the people I've come to know over the years. I don't know how to express my gratitude and surprise at this. Thank you very much." McCloskey also noted that he has worked in the industry for 41 years, and attributes his success to his wife Nora, and those he has worked with over the years including the Seggel family of Dodge-Newark Supply Co., Inc. and the team at Kaman Industrial Technologies Corporation.
View video of the Warren Pike Award presentation and McCloskey's acceptance speech at ptda.org/warrenpikeaward. For photographs, please contact rnavarro@ptda.org.
The Power Transmission Distributors Association (PTDA) is a global association for the industrial power transmission/motion control (PT/MC) distribution channel. Headquartered in Chicago, PTDA represents power transmission/motion control distribution firms that generate more than $16 billion in sales and span over 3,400 locations. PTDA members also include manufacturers that supply to the PT/MC industry.