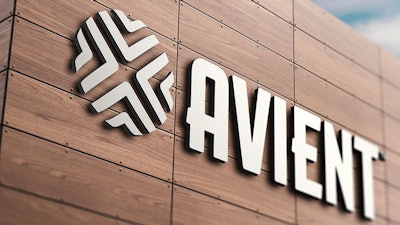 Avient Corp.
CLEVELAND -- Avient Corporation, a leading provider of specialized and sustainable material solutions, announced that its board of directors has unanimously voted to elect Dr. Ashish K. Khandpur as president and chief executive officer, effective Dec. 1.
In connection with this appointment, the board has elected Richard H. Fearon, lead independent director, as non-executive chairman of the board, also effective Dec. 1.
Robert M. Patterson will retire from his roles as president and CEO and resign from the board. He will remain with the company through May 31, 2024, in an advisory capacity to help facilitate the leadership transition.
Khandpur joins Avient after nearly three decades at 3M, where he began in R&D and technology roles, ultimately ascending to chief technology officer. He has since led several different 3M businesses, most recently serving as group president of 3M's Transportation and Electronics business. This business applies materials science expertise to commercialize products and solutions for a variety of market segments, including automotive, automotive electrification, semiconductors, LCD and OLED displays, consumer electronics, data centers, 5G networks, and transportation safety and generated approximately $8.9 billion in revenue in 2022.
"Ashish is one of the world's leading experts in polymers and materials, having earned undergraduate and doctorate degrees in chemical engineering at two of the world's leading chemical engineering universities, and then used that knowledge over several decades to help pioneer a host of new products for 3M," said Fearon. "In addition, as a business leader at 3M he has demonstrated great success in using that expertise to drive sales and profit growth. His passion for leading, innovating, and delivering success is readily apparent and will serve as an excellent fit with Avient's culture.
"During our extensive search process, it became clear to our Board that Ashish is the right person to lead Avient at this stage of Avient's journey. Now that Avient's portfolio has been re-positioned to be 100% specialty materials, Ashish's deep technical expertise and demonstrated commercial success in building and growing businesses makes him the ideal leader to take Avient to the next level of performance."
"I am thrilled to join Avient and build upon the foundation of specialization and operational excellence that was established during the Company's transformative years," Khandpur said. "Avient is dedicated to solving the materials science challenges of today and tomorrow for customers around the world, and I look forward to leading the next chapter, taking advantage of the significant opportunities that lie before us."
"As we welcome Ashish to Avient, we are also deeply appreciative of Bob Patterson and his leadership as CEO over the last 10 years. He led the company through an enormous amount of change, and in some very challenging environments. He retires from Avient having transformed the Company's portfolio to 100 percent specialty and built a foundation for even greater success," Fearon said.
"I look back on my 15 years with the company with a great sense of pride and gratitude," Patterson said. "Working with our associates to create a 'Great Place to Work' culture was an honor, as we served customers and helped to positively and sustainably impact our world. I have great confidence in Ashish as the next CEO of Avient to do even more, and I look forward to supporting him however I can during the upcoming transition."