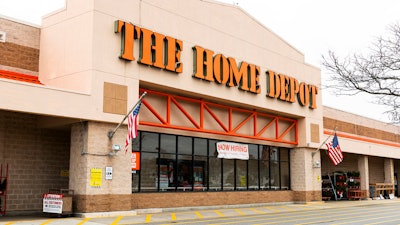 iStock
ATLANTA — The Home Depot on Thursday announced changes to align the organization around its largest growth opportunity: enabling its unique ecosystem to serve more pro customers and purchase opportunities.
Ann-Marie Campbell was named senior executive vice president, effective Nov. 1. In her new role, she will assume responsibility for outside pro sales efforts as well as the company's installation services business. She will continue to oversee U.S. stores and operations, The Home Depot Canada and The Home Depot Mexico business units. Campbell has served as EVP of U.S. stores and international operations since 2020. A 38-year veteran of the company, she has held a variety of leadership positions across stores, merchandising and operations. Chip Devine, senior vice president of outside sales, will report to Campbell and will continue to drive growth with the complex pro. Tim Wilkerson, senior vice president of home services, will also report to Campbell.
Hector Padilla has been named EVP of U.S. stores and operations, where he will lead the company's three U.S. operating divisions comprising more than 2,000 U.S. stores. Padilla has been with The Home Depot for more than 29 years and has served across the company's pro, store and services organizations. Most recently, he was EVP of outside sales and service, where he led the company's pro and installation services units. Prior to that role, he served in numerous leadership positions across the stores, including president of the company's Southern division, senior vice president of operations, regional vice president, divisional director of field services, general manager of home services, district manager and store manager. Padilla will now report to Campbell.
By combining the outside sales and service business with the global store organization, the company is bringing together its full ecosystem of deep expertise with its newest capabilities to serve pro customers – from the core pro customer working on smaller, simpler projects to pros working on larger, more complex projects.
"Pro is our biggest growth opportunity, and in order to provide the products and capabilities pros need, we are evolving our organization and approach to better serve them," said Ted Decker, chairman, president and CEO of The Home Depot. "Ann-Marie and Hector are incredible leaders who understand the unique requirements of the pro, as well as the dynamic operating environment across stores. I'm confident their focus on our customers, dedication to our associates, and passion for our culture will help us capture the enormous opportunity ahead."