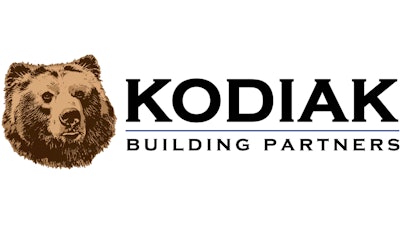 HIGHLANDS RANCH, Colo. — Kodiak Building Partners, a building materials distribution firm, announced that Mark Garboski will take on a strategic advisor position with the company.
Having served as chief operating officer for the past three years, Garboski is taking a step back for health-related reasons. Continuing to report to Steve Swinney, Kodiak's chief executive officer, Garboski will develop long-term strategic plans for several key initiatives critical to the company's future growth and success.
"I appreciate the flexibility provided to me by Steve and Kodiak, and I look forward to engaging fully again after a period of time," said Garboski.
Kodiak Building Partners is committed to the health and welfare of its employees and recognizes the importance of supporting Garboski during this time.
"Mark has and will continue to play a pivotal role in the growth and success of Kodiak Building Partners, and we fully support his decision to focus on his health at this time," said Swinney.
Moving forward, Mike Flood and Pat Flood, executive vice presidents of operations, will report directly to Swinney, with Mike Flood and Jeff Smith, Kodiak's chief financial officer, assuming additional leadership responsibilities.