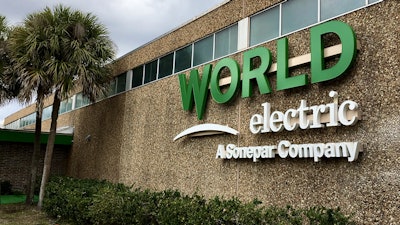 World Electric Supply
TAMPA, Fla. — World Electric Supply, a Sonepar company, announced leadership changes across finance, supply chain and marketing.
World Electric is comprised of 16 branch locations throughout Florida and Georgia.
"In 2022, we opened a new branch in Seminole to better service the booming St. Petersburg construction market, acquired Advance Electric to expand our operations in Atlanta, and broke ground for a new regional distribution center in Miami, Florida. We also opened another branch in Winter Haven just last week," said Tammy Livers, president of World Electric. "To manage our growth opportunities, it was imperative we optimize staffing."
Bill Turner has been promoted to vice president of finance. Over the past year, Bill has been instrumental in several key areas, including managing the integration process of Advance Electrical, incorporating several analytical tools to improve World's business and developing new financial processes. Turner holds a bachelor's degree in accounting from LaSalle University in Philadelphia and is a recent graduate of the Sonepar Junior Committee, an intense management development program that takes participants to Sonepar companies around the world.
Ben Austin recently joined the World Electric team as director of supply chain. Ben brings over 25 years of electrical experience in sales, projects, procurement, IT, and operations. Eleven years at Sonepar, Austin most recently worked for the Sonepar USA supply chain group as the director of project implementation and automation. Before joining the supply chain group, Austin worked as the warehouse process improvement manager for the Eclipse process improvement team at Sonepar. Austin holds a bachelor's in computer science from Southern Ohio College and a master's certificate in supply chain management and operations from Michigan State University.
Nash Welsh, promoted to strategic marketing manager, has been tasked with helping World Electric drive growth by implementing digital solutions and working closely with our vendor partners to strengthen those partnerships. Prior to her role at World, Welsh worked at Eaton as the Southeast territory manager for the residential and wiring devices retail division. Welsh holds a B.A. in marketing from the University of Central Florida.