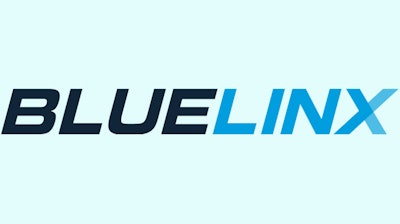 MARIETTA, Ga. — BlueLinx Holdings Inc., a leading U.S. wholesale distributor of building products, announced Tuesday that the board of directors has elected Shyam K. Reddy as president and chief executive officer, effective immediately.
In conjunction with his new role, he will also join the BlueLinx board of directors.
Reddy succeeds Dwight A.K. Gibson, who is departing the company and stepping down as a member of the BlueLinx board.
Reddy brings a deep understanding of BlueLinx's business and strategic opportunities to the role of CEO. He has served in a variety of positions over a nearly eight-year tenure at the company. His responsibilities have included leadership of corporate development, strategic planning, human resource management, risk management, governance and compliance, marketing and communications, information technology, pricing and sales excellence, and procurement.
"Shyam is a gifted leader who brings an exceptional depth of institutional knowledge and experience to BlueLinx," said Kim Fennebresque, chairman of the board. "Our board is confident that Shyam is well suited to successfully navigate a challenging macroeconomic environment, while continuing to position the business for profitable growth. As a respected leader across our organization, who has a deep level of engagement with our customers and suppliers, he is uniquely equipped to advance our strategic growth initiatives already underway and further position BlueLinx as the leading wholesale building products distributor across North America.
"On behalf of the entire Board, I would like to thank Dwight for his leadership and contributions to BlueLinx. We are grateful for the highly skilled and diverse team he has helped assemble, who will continue to contribute enormous value to our organization."
"It has been a privilege to work with the BlueLinx team to continue building BlueLinx into a stronger, more profitable business during my tenure, while supporting our customers and suppliers with industry-leading, value-added services and solutions," Gibson said.
"I am honored to continue to serve BlueLinx in this new role, and am confident that our fortified balance sheet, combined with our strong EBITDA and cash generation, positions us well going into a more challenging cycle, while preserving our ability to effectively execute on our strategic initiatives," Reddy said. "Our talented associates are our greatest advantage, and the strength of our team underpins my strong confidence in BlueLinx's future, and our ability to generate meaningful and sustained value creation for our shareholders."
First quarter 2023 update
Through the first 11 weeks of the first quarter of 2023, specialty product gross margin was in the range of 18% to 19%, with daily sales volumes lower by a range of 17% to 18% versus the prior year due to the current challenging macro environment and compared to a historically strong Q1 2022. Structural product gross margin was in the range of 10% to 11% with daily sales volumes relatively consistent when compared to last year. The company will continue to evaluate market pricing for wood-based commodities and adjust accordingly at the end of each period. The Company intends to provide its full financial results for the first quarter 2023 in early May.