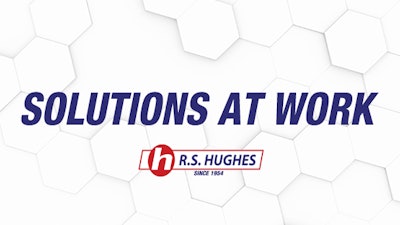 The Board of Directors of R.S. Hughes Company, Inc. elected Bill Matthews to chief executive officer at their December 2020 Board Meeting, replacing Pete Biocini, who passed away after a brief illness in November.
Pete Biocini started at R.S. Hughes in 1982 as a sales management trainee and became company president in 2001. He was promoted to CEO in January of 2018. He was an obvious leader in every position he held and quickly became an important part of the leadership team at the company. He set the pace for the growth and success of R.S. Hughes, becoming a major player in the industrial distribution world. Pete was very dedicated to the industrial distribution business and during his career, R.S. Hughes grew from $20 million in annual sales to $430 million. His passing was sudden and he will certainly be missed by all those who knew him.
R.S. Hughes is excited to introduce Bill Matthews as its news chief executive officer of R.S. Hughes. Matthews worked at 3M for 35 years, starting in sales for the Abrasive Division and moving up through sales management. He later integrated the Sales force of the Industrial divisions of 3M before becoming managing director of the 3M Industrial businesses in Europe. He retired as the sales VP of the Industrial businesses. Matthews' relationship with the R.S. Hughes Company goes back over 30 years and he has been on the R.S. Hughes Board since 2007. He lives in Naples, FL with his wife, Hannelore.
Sunnyvale, CA-based R S Hughes was No. 28 on Industrial Distribution's 2020 Big 50 List with $429 million in 2019 revenue. Founded in 1954, the company provides industrial supplies from its 50+ warehouse locations in the US and Mexico.