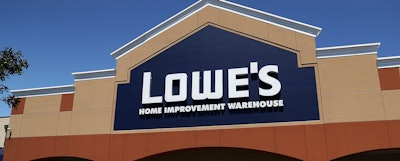 The corporate shakeup at Lowe's continues. The home improvement retailer on Wednesday announced that David Denton has been appointed as company's new executive vice president and chief financial officer — the latest in a string of key executive changes over the past three months.
Denton is currently the EVP and CFO of CVS Health, and will join Lowe's shortly after the closing of CVS' acquisition of Aetna, which is expected in the second half of 2018. He was appointed CFO of CVS in 2010 and has more than 25 years of finance and operational expertise.
"We are pleased to add a leader of Dave's caliber to the Lowe's team," said Marvin Ellison, Lowe's president and CEO. "Dave is a proven retail executive with expertise in finance, capital allocation and strategic planning. Dave also has a strong background in large-scale transformation efforts and has achieved outstanding results throughout his tenure. I am confident that Dave will play a key role as we accelerate growth, profitability and return on capital at Lowe's."
Denton will succeed Marshall Croom as Lowe's CFO, with Croom set to retire on Oct. 8.
"I am honored to join Lowe's and look forward to working with Marvin and the talented Lowe's team to further enhance the company's financial and operational performance, while strengthening our competitiveness in this evolving retail environment," Denton said.
"On behalf of the entire Lowe's board of directors, I would like to thank Marshall for his contributions to Lowe's over the past 21 years," Ellison added. "We wish him all the best in the future."
Ellison — previously CEO of JCPenney and EVP of stores at Home Depot for 12 years before that — took over as Lowe's chief executive on July 2, succeeding 25-year company veteran Robert Niblock. Niblock was Lowe's CEO for 13 years.
On Aug. 15, Joseph McFarland III began as Lowe's EVP of stores, overseeing its north, south and west divisions, Orchard Supply Hardware, pro and services businesses, operations and engineering and asset protection for the company. McFarland III has more than 25 years of retail operations experience, including more than two decades at Home Depot.
On Aug. 8, Donald Frieson began as EVP of Supply Chain at Lowe's, holding responsibility for the company's distribution centers, logistics, global sourcing, transportation and delivery services. He brought with him more than 30 years of operations and supply chain experience, including 19 years at Walmart.
On July 9, Lowe's announced a new leadership structure aimed to result in simplified roles and responsibilities to drive operational excellence. The new structure included the elimination of several C-suite roles — chief operation officer, chief customer officer, corporate administration executive and chief development officer. Their responsibilities have been assumed by other senior leadership roles that report directly to Ellison.
Lowe's also reported its 2018 second quarter financial results on Wednesday, showing that Q2 sales of $20.9 billion increased 7.1 percent year-over-year, with comparable sales up 5.2 percent. Total Q2 profit of $1.52 billion an increase from $1.42 billion a year earlier.
The company is expecting full year 2018 sales to be up 4.5 percent from 2017, with comparable sales up approximately 3 percent.
In its Q2 report, Lowe's announced it will exit its Orchard Supply Hardware business as a means of focusing more on its core home improvement operations. The company expects to close all 99 Orchard Supply Hardware stores — which are located in California, Oregon and Florida, as well as the distribution center that services those stores — by the end of 2018.
"While it was a necessary business decision to exit Orchard Supply Hardware, decisions that impact our people are never easy," Ellison said. "We will be providing outplacement services for impacted associates, and they will be given priority status if they choose to apply for other Lowe's positions."
Ellison added that in addition to exiting Orchard Supply, Lowe's is developing plans to "aggressively rationalize store inventory, reducing lower-performing inventory while investing in increased depth of high velocity items."
"Exiting Orchard Supply Hardware and rationalizing inventory are the driving force behind the changes to Lowe's Business Outlook." Ellison continued. "Our strategic reassessment is ongoing as we evaluate the productivity of our real estate portfolio and non-retail business investments."
As of Aug. 3, Lowe's operated 2,155 home improvement and hardware stores across the U.S, Canada and Mexico, representing 215.3 million square feet of retail space.