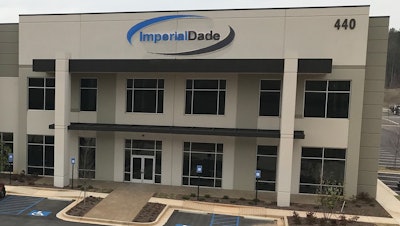 Imperial Dade
New Jersey janitorial-sanitation and packaging distributor Imperial Dade on Wednesday announced its acquisition of suburban Toronto company Advance Shipping Supplies and named a longtime Fastenal executive as its first chief operating officer.
Advance is a provider of industrial supplies, jan-san products and packaging materials founded in 1985. Company officials said the move would bolster Imperial Dade's scale in Ontario while providing Advance customers with a larger portfolio of products and services.
"Advance has a loyal customer base and a laser-focused commitment to providing an unparalleled customer experience, making the business a great addition to our growing North American platform," Imperial Dade CEO Jason Tillis said in a statement. "Partnering with Advance is yet another step in our mission to be the leading national specialty distributor of industrial, foodservice and janitorial products."
Terms of the deal were not disclosed. The acquisition is the 75th for Imperial Dade under Jason Tillis and company Chairman Robert Tillis.
The company also announced the addition of former Fastenal COO Terry Owen. Company executives said that amid its rapid growth, it was "the right time to bring a world-class operations leader on board."