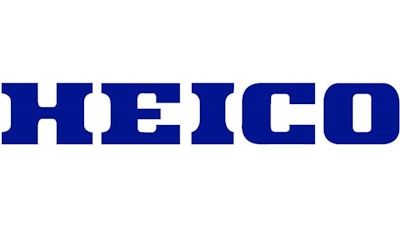 HEICO
HOLLYWOOD, Fla., and PEACHTREE CITY, Ga. — HEICO Corporation announced that it has entered into an agreement to acquire Wencor Group from affiliates of Warburg Pincus LLC and Wencor's management for $1.9 billion in cash and $150 million in HEICO Class A Common Stock to be paid at closing, or $2.05 billion in the aggregate.
The transaction will be HEICO's largest ever in purchase price, as well as revenues and income acquired. Wencor will become part of HEICO's Flight Support Group.
HEICO stated that it expects the highly synergistic acquisition to be accretive to its earnings within the year following the closing. Further, HEICO anticipates it will continue to achieve its often-articulated growth objectives in the years following the closing.
Founded in 1955, Wencor is a large commercial and military aircraft aftermarket company offering factory-new FAA-approved aircraft replacement parts, value-added distribution of high-use commercial & military aftermarket parts and aircraft & engine accessory component repair and overhaul services. Wencor is based in Peachtree City, Georgia, and provides its parts and services internationally, employing approximately 1,000 team members in 19 facilities around the U.S. HEICO currently employs approximately 9,000 team members at over 100 facilities worldwide. Wencor's customers include airlines worldwide, aircraft maintenance repair and overhaul companies, military agencies and defense contractors.
Wencor's parts and repairs are found in hydraulic, pneumatic, electronic and electro-mechanical, cockpit and galley systems throughout numerous aircraft models and provide Wencor's customers with significant cost savings.
HEICO anticipates that Wencor will generate approximately $724 million and $153 million in adjusted proforma revenues and EBITDA, respectively, in calendar year 2023.2 Further, HEICO expects to receive estimated tax benefits of approximately $75 million that will be realized through fiscal year 2038. Including the estimated tax benefits and without accounting for any expected synergies, HEICO anticipates that its effective purchase price multiple will be approximately 12.9 times Wencor's projected proforma adjusted EBITDA.
Following the acquisition's completion, HEICO anticipates its net debt-to-EBITDA leverage ratio will be below 3:1 and will return to its historical levels within roughly a year to eighteen months after the acquisition, before taking into account future acquisitions and other possible capital deployment activities.
HEICO stated that it believes its Flight Support Group will achieve meaningful synergies from the acquisition, though it is not now providing details on those likely synergies. HEICO's Flight Support Group has successfully achieved significant financial and other synergies from acquisitions of other businesses over many years.
"Our Flight Support Group has for decades provided high-quality and reliable cost-saving products and services to the commercial aircraft and defense aftermarkets. The Wencor acquisition materially expands HEICO's aftermarket product offerings, enabling the combined company to offer even greater savings and capabilities to its customers, while expanding our new products and services development capacity," Laurans Mendelson, HEICO's chairman and CEO, Eric A. Mendelson, co-president and Flight Support Group CEO, said in a joint statement. "Wencor is a perfect and highly complementary fit with HEICO. Importantly, we look forward to welcoming Wencor's Team Members to the HEICO family and to working with Wencor's talented leadership team led by Shawn Trogdon, who will continue to lead the business."
"I am excited about the opportunity to combine HEICO and Wencor's impressive teams who share the same culture and commitment to our customers, suppliers and employees," said Wencor CEO Shawn Trogdon. "The unmatched combination will further accelerate growth, innovation, and development of highly reliable cost-saving solutions for our customers. I am proud of our team's achievements to date and look forward to continuing our journey of growth with HEICO. I want to thank the Warburg Pincus team for their support and partnership that has helped enable our success."
"We are proud of the transformative growth of Wencor and significant expansion and deepening of capabilities during our ownership period. The company is very well positioned for future growth, and we wish Shawn and the entire Wencor team continued success. As growth investors, we feel privileged to have supported Wencor in building a leading design, repair provider and distributor of aftermarket aerospace components," said Dan Zamlong, managing director, Warburg Pincus.
Closing is subject to customary closing conditions, including, among other things, antitrust clearance. The parties anticipate closing the transaction by the end of calendar 2023.