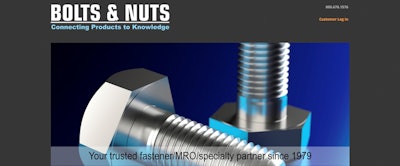 Chattanooga, TN-based fastener distributor Bolts & Nuts Corp. is staying on the acquisition trail, announcing Thursday that it has merged with Franklin, IN-based Technical Threads.
With locations in Franklin and Rock Hill, SC, Technical Threads is a distributor of highly engineered pipe, valve and fitting fasteners and gaskets, serving customers throughout North America.
"Bolts & Nuts Corp. will broaden its ability to serve its strategic customer base, in the U.S., Mexico, Canada, Europe and Asia, where Technical Threads maintains existing deep customer relationships," Bolts & Nuts said, adding that it currently serves customers in more than 40 U.S. states, Mexico and Europe.
The acquisition is the fourth for Bolts & Nuts in the past 27 months. Last August, the company announced the addition of Nashville, TN-based Challenger Component Services; one month earlier, it announced the acquisition of Macon, GA-based Industrial Fastening of Macon; and in April 2016, Bolts & Nuts announced the acquisition of Louisville, KY-based US Nut and Bolts.
"We are excited to welcome Adam Howell and Matt Simon and the Technical Threads team, who will continue to run this important business serving their unique customer base to become a part of the Bolts & Nuts Corp. family," said Mike Strunk, CEO of Bolts & Nuts Corp. "We are eager to broaden our reach for our customers, supporting economic development, job creation and contribution to the communities of Indiana and the Carolinas that is core to the Bolts & Nuts values."
Technical Threads is led by co-presidents Adam Howell and Matt Simon, who said, "In combining with Bolts & Nuts, our team acquires the advantages of marrying up with a company whose core values focus on delivering value to our four key stakeholders: customers, team members, community and suppliers."
Along with supplying MRO, industrial supplies and Class C parts, Bolts & Nuts offers customized vendor managed inventory and value-added engineered programs. Read more about the company in Industrial Distribution's Distributor Profile feature that was the cover story of our January/February 2016 print issue.
"As with its other locations in Tennessee, Kentucky, Georgia, North Carolina, Nebraska, Oklahoma and Illinois, the Franklin, IN and Rock Hill, SC teams will continue on the rapid growth trajectory that Howell, Simon and their team have embarked on for several years," Bolts & Nuts said. "Technical Threads will continue to utilize its expert team to directly source parts for its customer base."