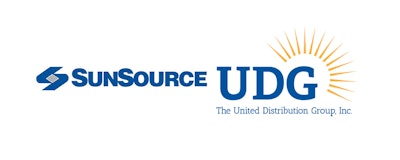 The industrial products received another shockwave on Wednesday, with news of the latest landmark acquisition.
Addison, IL-based SunSource, a large distributor of fluid power products and fluid process technologies — announced that it has agreed to purchase Briston, TN-based United Distribution Group (UDG) — a diversified MRO products distributor that operates through two subsidiaries: GHX Industrial and United Central Supply. Terms were not disclosed for the deal, which is expected to close in August.
Privately-held SunSource hasn't disclosed its financial information in years, though Industrial Distribution estimates it would place near No. 20 on ID's 2017 Big 50 List. UDG was No. 24 on the Big 50, and likewise hasn't shared its financials since 2013, when it had $610 million in sales.
This marks the second Big 50 distributor SunSource will acquire in a span of four months. On May 1, the company announced it had completed the acquisition of Burbank, CA-based Ryan Herco Flow Solutions — No. 41 on the Big 50 — which had $241 million in 2016 full year sales.
SunSource was bought in late 2017 by private investment firm Clayton, Dubilier and Rice — the same firm that bought HD Supply Waterworks last summer for $2.5 billion and rebranded that unit as Core & Main. SunSource is led by David Sacher, who was promoted from company president and COO to CEO in early 2017. Former SunSource CEO Justin Jacobi is company chairman.
UDG subsidiary GHX Industrial is a distributor of fluid conveyance and sealing products serving upstream energy, downstream energy and diversified markets, while United Central Supply (UC) is a MRO products distributor to underground and surface mining sites and other industrial facilities in North America. In July of 2017, news broke that GHX was consolidating four Houston-area facilities into a new 143,000-square-foot facility that serves as its new headquarters.
United Distribution Group was featured in ID's May/June 2015 Distributor Profile.
"UDG shares many core business strengths and cultural values with SunSource, and the GHX and UC businesses are highly complementary with SunSource's existing business and product portfolio," Sacher said. "The combined company will occupy a strengthened position in the marketplace, benefiting from increased scale and an enhanced set of organic and inorganic growth opportunities, particularly in the fluid conveyance market. We believe the combination will drive incremental opportunities to create value for our customers, employees and suppliers, while also accelerating growth, profitability improvement and shareholder value creation."
SunSource's press release Wednesday stated that UDG has a product offering of more than 140,000 SKUs, and that the average tenure of UDG's top 10 customers exceeds 35 years. UDG has 60 location and more than 2,100 supplier partners.
"We are extremely excited about this important strategic step that will enhance the prospects for both UDG and SunSource," said Darrell Cole, President and CEO of UDG. "Both companies enjoy deep relationships with customers and suppliers, a commitment to value-added capabilities that address complex problems and a talented team of professionals committed to customer satisfaction and a relentless pursuit of continuous improvement."
Other major deals involving major industrial distributors over the past year include Berkshire Hathaway's acquisition of Production Tool Supply (No. 34 on Big 50) last fall and resulting formation of new master wholesaler Berkshire eSupply; and Applied Industrial Technologies' (No. 12 on Big 50) $784 purchase of FCX Performance (No. 30 on Big 50), which was completed in Q1 of this year.