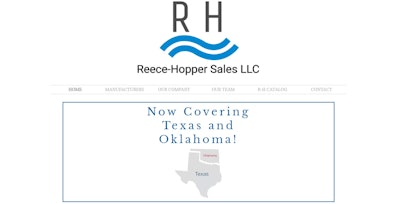 DALLAS, TX — Ron Henson Manufacturers Representatives, a Houston-based organization that serves as a manufacturer's agent covering the South Texas markets for plumbing, HVAC and hardware wholesale, and RRR Industrial Sales, a Dallas-based manufactures representative firm providing sales coverage for North Texas and Oklahoma, jointly announced today that they have entered into a definitive agreement to merge the two companies, subject to customary closing conditions.
The combined entity, to be named Reece-Hopper Sales LLC, creates a sales agency leader in wholesale plumbing distribution, addressing the entire Texas and Oklahoma markets with end-to-end service and broadening the combined product offering. The company plans to leverage its complementary product offerings to increase first class service to its combined customer base throughout Texas and Oklahoma. Under the new ownership structure, Don Reece, Jarrett Hopper and Chick Kindig will be the principles and officers of the new company.
"I am excited about the opportunity in front of us as we leverage the strengths of our combined teams and product offering," said Don Reece, President of RRR Industrial Sales. "This merger will not only enhance the level of service we can provide the market in the short term, it will also bring together the people, partnerships, assets and infrastructures to generate significant value in the years ahead."
"We believe this merger will position us strongly in the industry," added Jarrett Hopper, President of Ron Henson Manufacturers Representatives. "We will have senior leadership in Houston, Austin and Dallas to provide an expanded product offering to our customers across Texas and Oklahoma."
"We are a growth-focused organization and this merger gives us a new and stronger platform on which to grow," noted Chick Kindig, a 23-year veteran and Vice President of Ron Henson Manufacturers Representatives. "If you're not growing in this industry, then you're going backward – that goes for us as a company as well as the manufacturers that we represent."
Reece-Hopper Sales LLC will offer:
Strategic partnerships with leading industry suppliers, including current agreements with Taco Comfort Products, E.L. Mustee & Sons, Green Drains Inc., B&K Products and Barnes Pumps, amongst others
A collaborative sales process & methodology to meet the growing needs of the industry
Integrated operations – stocking warehouses in Houston and Dallas – sales professionals in Houston, Dallas, San Antonio and Austin, providing complete state wide coverage.
The mission of Reece-Hopper Sales LLC is to be the Rep Agency of choice in Texas-Oklahoma, providing revenue growth for our customers through comprehensive consultation, product training and knowledgeable customer service.
"E.L. Mustee is thrilled about the merger of two great agencies Ron Henson and RRR Industrial," said Kevin Mustee, President of E.L. Mustee & Sons, Inc. "Henson has represented us since 1980 and we have just joined forces with RRR. Having the combination of Henson and RRR will give Mustee a unified presentation in the Texas and Oklahoma markets. Their combined strengths will improve service levels to the wholesaler's expanding needs."
"At Taco, we strive to continuously improve our relationships with our representatives and our customers – one of the key Taco values," added Wil VandeWiel, CEO of Taco family of companies. "We see the merger of RRR and Ron Henson as an opportunity to significantly improve how we serve Taco customers in the Texas-Oklahoma area, providing one clear point of contact to streamline all of our customer's needs."
About RRR Industrial Sales
Established in 1995 by Thomas A Reece, Don Reece and Jim Reece, RRR Industrial Sales (Triple R) has earned a stellar reputation by providing the highest quality pump equipment & accessories to the wholesale plumbing market. Their operations are based out of Dallas, serving North Texas and Oklahoma.
About Ron Henson Manufacturers Representatives
Ron Henson Company was established in 1976, in Houston, by Ron Henson and Rusty Rutledge. The company was sold in 2016 to Jarrett Hopper and Chick Kindig. Today the agency covers the South Texas markets for plumbing, HVAC and hardware wholesale. Ron Henson's team has more than 100 years of combined experience in the industry. Their operations are based out of Houston, serving the South Texas region.