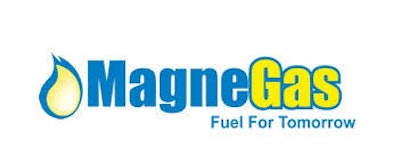 TAMPA, Fla. — MagneGas Corporation (NASDAQ: MNGA), a technology company that counts among its inventions a patented process that converts liquid waste into a hydrogen-based fuel, announced Monday that it has completed the acquisition of Equipment Sales and Service, Inc. (ESSI) of Clearwater, Florida. ESSI is an established industrial gas distribution company with estimated 2014 gross revenues of almost $2 million earned through the sales of industrial gases and related products.
MagneGas has purchased this established local industrial gas distributor to provide a platform to further MagneGas fuel sales and expand its customer product availability. The Company believes that the purchase of ESSI will allow more rapid market penetration to grow recurring sales of MagneGas fuel while offering a wider range of services to industrial, metalworking, and fabrication customers.
Established more than 20 years ago, this distributor is one of the largest independently owned gas distribution companies in the area offering a broad range of welding gas products and services. MagneGas purchased 100 percent of the outstanding stock of ESSI in exchange for $3 million in cash paid at the closing. The acquisition is expected to bring the overall MagneGas fuel division to a breakeven level in 2015.
"Having founded ESSI over 20 years ago based on customer service, I am pleased to see that it will stay independent with a Company such as MagneGas that is focused on customer satisfaction and innovation.  I am excited to have found an independent Company that is growing and cares about its customers as much as I do," stated Robert Ficocelli, Founder and CEO, Equipment Sales and Service, Inc.
"After acquiring this local well-established gas distributor, we are now entering the next phase of our expansion into the industrial, metal working, and fabrication markets. This purchase will provide a springboard to introduce and sell Magnegas fuel to a wider audience of customers around the Tampa Bay area," stated Ermanno Santilli, CEO of MagneGas Corporation. "Separately, we have purchased a nearby industrial building which will allow for the expansion of MagneGas headquarters as we continue to attract customers and partners from around the world."