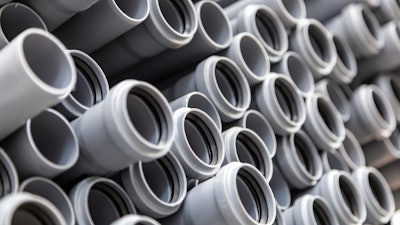 iStock
A longtime distributor of pipes, valves and other flow control products is getting a new owner — one with significantly deeper pockets than it's used to.
Harrington Industrial Plastics was founded in Chino, California, in 1959. Over the following six decades, it grew from suburban Los Angeles into a coast-to-coast specialty distributor of engineered fluid process products aimed at corrosive and high-purity applications. Its portfolio – spanning from pipes, fittings and valves to pumps, hoses and sensors – serves a broad range of industries, including manufacturing, chemicals, water management, semiconductor fabrication, and food and beverage processing, at more than 60 branches from the Eastern Seaboard to Hawaii.
Just weeks after wrapping up its 60th year in business – and days before pandemic lockdowns began to take effect across the U.S. – Harrington's management signed off on an agreement to be acquired by Nautic Partners. The Rhode Island-based private equity firm, which focuses on middle-market businesses in the industrial, healthcare and services sectors, said that Harrington's growth had accelerated in the preceding years and that it would promote both organic growth and "selective acquisitions" moving forward.
Although it's hard to imagine a more tumultuous time to take over a supply chain operation, Nautic and Harrington pressed ahead, vowing to keep all branches up and running amid the COVID-19 outbreak — and bolstering its operations with the addition of Ohio's Aetna Plastics just weeks later.
Last summer, the company added more companies – South Carolina-based Commercial Industrial Supply and Central California specialty fabricator Crist Group – and it appears poised to become even more ambitious under new management.
Bain Capital Private Equity in early September announced an agreement to acquire Harrington from Nautic-affiliated funds for an undisclosed sum. Although moving from one private equity firm to another might not seem earth-shattering at first glance, the difference in those firms' respective war chests should definitely move the needle — Nautic says it has managed more than $9 billion since its founding in the mid-1980s; Bain Capital currently manages $175 billion.
Harrington will remain a standalone company under Bain and will continue to be led by its current management team, including CEO Dave Abercrombie and COO Bob Graham. Abercrombie said in the announcement that Harrington's end markets are experiencing a windfall in an otherwise unpredictable macroeconomic climate, and that partnering with Bain would accelerate its growth "as we continue to support critical industrial sectors across the country."
"Bain Capital's experience partnering with and providing valued resources to industrial and specialty distribution companies will be very important as we continue to scale the business and serve the needs of our vendors, customers and team members," Graham added.
Bain noted that it has a long history in the specialty distribution sector, including with industry giant HD Supply, building products leader US LBM and jan-san and foodservice supplier Imperial Dade. Joe Robbins, a partner in Bain's industrials vertical, said the firm would support Harrington's continued growth after watching it consistently gain market share through "differentiated technical expertise, product availability and execution."
Nautic officials, meanwhile, said the firm was fortunate to partner with Harrington's management for more than three years.
"We believe Harrington is well-positioned to continue to enjoy exceptional growth in the years to come," Chris Pierce, Nautic's managing director, said in the announcement.
Bain Capital expects the acquisition to close in the final quarter of the year, pending regulatory approvals and other closing conditions.