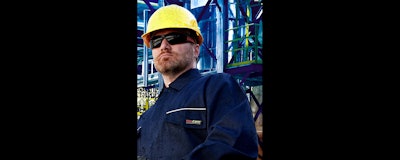 MEMPHIS, TN — Radians recently launched VolCore, their new line of Flame Resistant (FR) workwear that helps protect workers from short-term thermal hazards, including arc flash and flash fire. VolCore AR/FR workwear self-extinguishes and does not melt when exposed to flame, dramatically reducing the severity of burn injuries.
Industries that require AR/FR clothing include utilities, oil and gas, refinery, chemical, petrochemical, paper and pulp industry, food processing, paint, and more.
The new line includes CAT 2 coveralls, shirts, and denim blue jeans. Radians also offers customizations that include reflective striping, patches, direct embroidery, screen-printing, tool pockets, and mic tabs. Coverall and shirt sizes include M to 5XL with a tall option in the coveralls FRCA-002--khaki. The jeans are available in several waist sizes, standard lengths, and custom lengths.
In addition to launching VolCore, Radians recently acquired Neese Industries, a global leader in FR Workwear, which will also facilitate Radians' expansion into the AR/FR workwear protection category.
For more information, visit www.radians.com, or call toll free 1-877-723-4267. All Radians products are sold through authorized distributors.