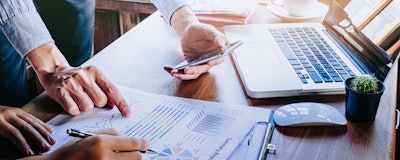 Technology continues to disrupt the world of distribution, with ongoing digital transformation efforts modernizing business processes as companies look to increase productivity and reduce costs. While technology has altered the modus operandi for sellers, it also changed the purchasing preferences of buyers. For example, 74 percent of buyers research half or more of their business purchases online, with the internet replacing the role of the sales rep as the customer's source of information. What's even more surprising is that the majority search for information on social media.
State of play
This has created a new market dynamic; one in which buyers no longer depend on sales reps for product information. Instead they can now research products for themselves online, reviewing a multitude of products from several vendors to identify the best possible product at the best possible price point. However, despite this new market dynamic and a fundamental shift in buying habits, sales roles and the sales models employed by distributors have remained the same.
Distributors have been reluctant to react to these new market forces by modernizing their sales models as many mistakenly believe their business depends on the personal relationships between their sales reps and customers. Consequently, they fear that if they disrupt the status quo too much their sales reps will leave, and their individual customers will follow suit. However, by attempting to fly against the wings of change, distributors will be burdened with a sales team that no longer adds value to the organization. So, how can distributors modernize their sales model for the digital age and still retain their existing sales reps?
As technology has diminished the value that sales reps provide to customers, distributors need to leverage a sales model that is more closely aligned with the new buyer-seller dynamic. Industry consolidation continues to squeeze profit margins and market share and this means redirecting the focus to acquiring new customers and preventing existing ones from switching to a competitor. In doing so, they can ensure the sales force continues to add value to the business.
Streamlining sales
To acquire new customers and strengthen relationships with existing ones, distributors need to divide the roles of sales reps into those who approach new customers in the field and those who enhance customer service from a centralized location. By identifying the strengths of individual sales reps, distributors can enable employees to play to their strengths, rather than trying to be a jack of all trades. Studies show that working with a sense of purpose boosts employee motivation, productivity, morale, and overall job satisfaction. With a clearly defined job role, sales reps are not only more likely to remain in their current position, but are also more likely to add value to the wider organization.
To further enable employees to play to their strengths, distributors can further streamline their roles so they can remain focused on the activities that add tangible value to the business. For example, by taking ownership of identifying prospective buyers and new market opportunities, sales reps in the field can focus on securing the customers discovered on their behalf. Similarly, by automating the manual entry of purchase orders, employees tasked with nurturing customer relationships can remain focused on exactly that. When you consider that sales reps spend nearly 15% of their time completing administrative tasks, this can save a significant amount of time which can be reallocated to improving customer service.
Supporting sales
To support sales reps in their new roles, distributors need to position their employees to carry out their tasks to the best of their ability. As the buying habits of customers have changed, suppliers need a comprehensive overview of their customers' new preferences, so they can best serve them and align their sales strategy accordingly.
The best way to do this is through the collection of data both structured and unstructured which enables distributors to identify where, when and what customers are buying. This valuable information can then be collated to create comprehensive customer profiles for each client account. With this knowledge at hand, distributors can allocate resources to increase the chance of attracting new customers and retaining customers. For example, if the majority of customers complete purchases through the website, organizations can invest in the platform's performance to maximize this asset. If they prefer to send purchase orders through email, distributors can look to streamline the process to improve the customer experience.
As the buyer-seller relationship has fundamentally shifted with the internet replacing the sales rep as the customer's primary source of information, the role of the sales force needs to adjust accordingly. By aligning their sales strategy to the buying habits of customers identified through the creation of comprehensive customer profiles, the sales force will be better placed to acquire new customers and retain existing ones. This enables sales reps to play to their strengths and stand a better chance of success. This not only improves job satisfaction and consequently the ability to retain staff, but also benefits the entire organization.
Earl van As is Vice President of Marketing & Product Management of ecmarket, cloud solutions developer of the patent-pending Conexiom sales order and invoice automation solution. Conexiom allows manufacturers and distributors to focus on serving customers and managing supplier relationships instead of entering data. He may be contacted at evanas@conexiom.com. For more information, visit conexiom.com.