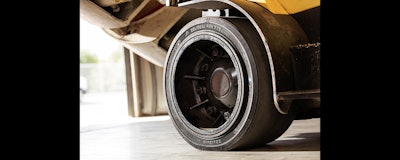 MAGOG, Quebec — Camso, formerly Camoplast Solideal, introduces three new press-on (PON) tire models to meet the growing demands of forklifts operating in high- and medium-intensity applications.
The Material Handling industry has evolved considerably in recent years. Larger forklift models are using more specialized attachments and now come equipped with hydrostatic transmissions, automotive-type active stability systems and specialized attachments. These material movers now have to carry heavier loads in more confined spaces while moving faster. Combined with increased travel distance and less cool-down time between jobs, duty cycles are more severe than ever before.
The all-new Solideal PON 775 high-intensity tire
The new Solideal PON 775 by Camso raises the bar and is especially designed for high intensity applications where other press-ons fail quickly. When compared to the Solideal Magnum SM ERP:
It delivers 90 percent better resistance to internal heat build-up
It shows 70 percent better energy efficiency due to low-rolling-resistance rubber compounds
It provides 45 percent longer tire life due to an abrasion-resistant tread compound
It features a unique and patented sidewall design to relieve stress on the tire edges and reduce ground pressure
A full range of Solideal PON 775 sizes are available, right up to and including a new 33-inch tire.
The revamped Solideal PON 555/550 medium-intensity tires
Camso's medium-intensity Solideal PON 555 and 550 are enhanced versions of the Magnum traction and smooth models, long established as industry standards. By improving the materials and tire construction process, these new tires will provide:
45 percent longer tire life
6 percentbetter resistance to internal heat build-up
8 percent improved energy efficiency
Together, the new Solideal PON 775 and the Solideal PON 555 and 550 were designed as a series to bring maximum lifespan for different application intensities and to provide customers with the lowest operating cost solution.