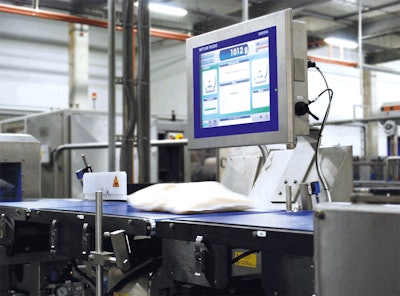 COLUMBUS, OH — The C3000 System has been engineered in accordance with several decades of METTLER TOLEDO experience of a range of global manufacturing industries. At the same time, the flexibility of the C3000 System means that we can also focus on your individual requirements. With completely redesigned mechanics for improved stability, the weighing accuracy and throughput is increased by up to 33 percent. C3000 System checkweighers are also designed for the fastest speeds required within the highest calibratable weighing range.
With the new C3000 System comes new levels of operator safety. Its safety requirements were specifically designed to meet the high standards of several major customers (who produce a wide range of products). A full and thorough risk assessment is available with every machine.
C3000 Systems work intuitively and include an important core feature: an open-designed four-tube frame structure, whose curved angles and minimal horizontal surfaces guarantee easy cleaning and maintenance. The user interface features simple navigation, and supports daily work with diagnostic tools. Together, these features help to generate more uptime for the production process.
C3000 System is equipped with particularly quiet belts that reliably impede product vibration during belt transfers. The sensitive weighing cell is therefore always optimally protected from disruptive influences, and can handle a throughput of up to 600 products a minute.
The modular device design of the C3000 System also reflects the focus on maximum efficiency: The checkweigher can be seamlessly adapted to the production conditions and, where necessary, can also be integrated into extremely specialized processes. For example, a special granulate conveyor belt is available for weighing powdered foods, with drive components that are fully encapsulated and protected against the ingress of even the smallest particles. This prevents rapid wear, reduces maintenance requirements, and prevents inspection leading to a costly OEE bottleneck.
On balance, networked checkweighers have proven themselves as exceptionally effective tools for controlling OEE: Integrated seamlessly into the production line and networked with other production and IT systems, they optimize day-to-day processes and make significant contributions to the availability, performance and quality of the system.