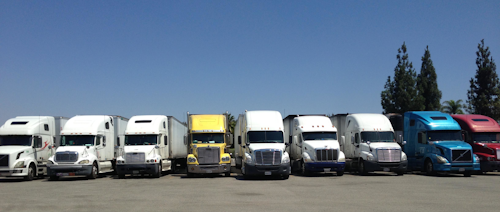 Amazon reportedly hopes that a forthcoming app will enable truck drivers to more easily find shipments to move around the country.
Business Insider, citing a source familiar with the matter, reports that the e-commerce giant hopes to launch the app next summer in an effort to eliminate the market for brokers who currently match shipments with drivers.
Characterized as ridesharing for large cargo loads, the app would provide pricing information and driving directions, along with tracking and payment options to further optimize the process.
The removal of brokers — and their commissions — could make shipping cheaper for retailers and wholesalers, including Amazon, which purchased thousands of truck trailers as part of broader efforts to control more of its shipping operations.
The move would also represent a deeper investment in the global logistics market and, in particular, the $800 billion trucking industry.
Ridesharing service Uber is also working on a trucking app, as are startups Trucker Path and Convoy. The latter, founded by four former Amazon employees, counts Amazon CEO Jeff Bezos as investor.
The hub of the app project is Amazon's Minneapolis office, BI reports, but work is also underway in its native Seattle and in India.