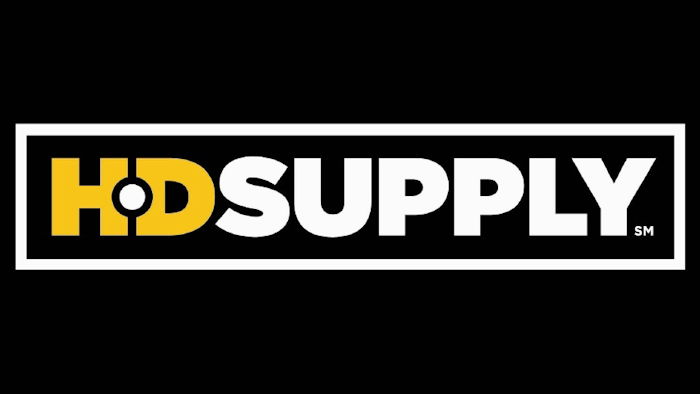 A report from equities news and data service firm dealReporter this week says that HD Supply is exploring interest in potential suitor interest, citing a source briefed on the matter.
The report said that HD Supply — No. 6 on Industrial Distribution's 2016 Big 50 List with 2015 sales of $7.4 billion — is working with Goldman Sachs as it faces pressure from activist investor JANA Partners.
Noting an enterprise value of $12 billion+, dealReporter says HD Supply is not running a formal sales process and that interest in finding a buyer for the entire company is unlikely. The report cited its source and a sector advisor in saying Goldman is also providing defense advice to HD Supply and that it's possible no deal will be reached.
Bloomberg News mentioned the report in a story it posted Wednesday about the considerable positive traction HD Supply has gained since Donald Trump won the General Election on Nov. 8. The company was trading at $32.80 on Nov. 7, and was up to $43.30 after Wednesday — a 32 percent surge in less than seven weeks.
Prior to the election, HD Supply was trading at a year-low of $22.40 back on Feb. 8, recovered to $33.30 on May 16 when JANA reported an investment stake in the company and climbed to $36.80 by Sept. 2 before dropping to $30.50 a week later before slowly recovering before its post-election spike.
Trump's campaign platform called for increased infrastructure spending, corporate tax reform and inflation revival, all of which would certtainly benefit HD Supply. However, a report this week by the Associated Press says that lobbyists are now questioning Trump's infrastructure committment, worrying a spending proposal will be subdued or won't happen at all.

A complete sale of HD Supply seems highly unlikely at this point, especially with its stock surging. But a divestment certainly wouldn't be out of the question. HD Supply announced the sale of its Hardware segment to The Home Depot back in December 2014, announced the $825 million sale of its Power Solutions segment to Anixter International in July 2015 for $825 million and announced the sale of its Interior Solutions segment to Interior Specialists this past April.
"One potential path is a takeover, and according to dealReporter, HD Supply is working with Goldman Sachs Group Inc. to gauge interest from peers such as W.W. Grainger Inc., as well as private-equity firms," Bloomberg said Tuesday. "But a takeover just doesn't make a lot of sense."
Why Bloomberg mentioned Grainger is unclear, as they weren't included in dealReporter's report. Perhaps Bloomberg just picked Grainger because it is largest U.S.-based industrial distributor and perhaps the only one with the capital to make it happen. But Bloomberg goes on to discuss why a complete takeover of very difficult for anyone to pull off, and goes into detail about why it would be financially crippling for Grainger. 
"Arguably, Grainger is better off investing that money in a defense against Amazon.com Inc.'s foray into industrial distribution," Bloomberg says. "A purchase of just HD Supply's facilities-maintenance business would help because its specialized repair offerings can't be easily as easily commoditized. It would also be a smaller and more palatable deal. But why would HD Supply want to give one of its more defensible business to its rival?"
Bloomberg's story goes on to say there's little upside for HD Supply make a sizable divestment right now, as its stock is likely to keep rising as Trump takes the Oval Office. Bloomberg cites RBC Capital Markets analyst Deane Gray saying HD Supply could see a 19 percent boost in its 2018 earnings per share, while reflation will allow it and fellow industrial distributors to not have to increase prices.