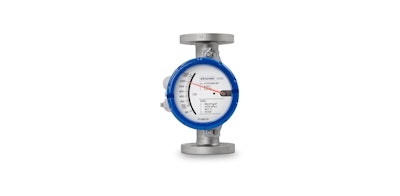 PEABODY, MA — KROHNE, Inc. announces the H250 Variable Area Flowmeter with M40 Indicator, which combines proven flow measurement with latest communication capabilities like Foundation Fieldbus. The H250/M40 is ideal for flow measurement applications in the oil and gas industries when costs and reliability are a factor.
With a flanged size range from 1⁄2-inch to 6-inch, the KROHNE H250 Variable Area Flowmeters can handle all of the unique specification requirements and documentation of the Oil & Gas industry. The H250 combined with the M40 Indicator is ideal for measuring corrosion, scale, or hydrate-inhibitors, demulsifiers, methanol, MEG, fuel gas and nitrogen.
The flowmeter's sturdy all-metal design ensures high resistance to pressure, temperature, and media and stands up to the extreme application and environmental conditions found in the oil andgas industry. The product's innovative construction allows end users a free choice of intrinsically safe or flameproof design. The M40 Indicator allows for simple, low-cost installation and is capable of measuring and displaying without an auxiliary power supply.
The H250/M40 gives end users the broadest choice of outputs and display options of any competing product and is available with an optional protective coating of the measuring tube and/or housing for offshore applications.