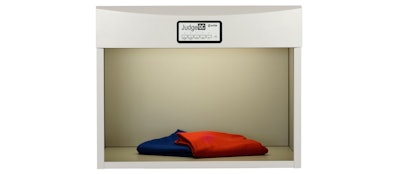 GRAND RAPIDS, MI — In manufacturing and quality control across all industries, accurate color is important. When color does not meet specifications, the result is increased cost and time to market, and more rejects and rework. That's why it is important to have good processes in place for visual evaluation of color. One way to improve consistency is by ensuring that color is viewed under the best possible lighting conditions.
For optimum results, samples should be examined using a light booth that offers a variety of lighting conditions to enable you to determine how your color will look in the factory, as well as outside, in a fluorescent-lit store, in a home environment, or wherever else your products will be seen once they enter the world.
The Judge QC light booth from X-Rite offers an economical and effective way to judge color, anywhere color quality needs to be evaluated, helping you improve quality control operations.
Achieve better color evaluation of materials and products with consistent lighting
Benefit from robust, industrial construction that will serve you for years to come
Always know exactly how functional the Judge QC lamps are with its new convenient lamp service indicator
Take advantage of multiple options for lamp replacement, designed to be as convenient as possible and ensure maximum up-time
The Judge QC is ideally suited for visual evaluation of color critical applications. When colors don't match during final product assembly, or from batch to batch or lot to lot, the result is rejection and waste. By making the Judge QC light booth an integral part of your visual evaluation process — in the lab, on the production floor or during quality assurance — you can ensure that customers will be delighted with the color outcome.