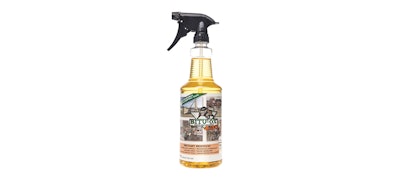 MAHWAH, NJ — An oil-based solvent that liquefies and breaks down tar, asphalt, oil, grease, asphaltene and paraffins is now available from Green Way Products, LLC. The solvent has multiple uses, including acts as a heavy lubricant, release agent, degreaser and can be used in a power washer for extreme cleaning. It is intended to be used on multiple surfaces, with the user just needing to rinse with water after use.
Bitu-Ox 400 is designed to liquefy and remove asphalt instantly from machinery, equipment, conveyor belts, chutes and more.
The Bitu-Ox 400 is odorless, non-reactive, non-carcinogenic and is derived from renewable resources.
Other features include:
A flashpoint of 400°F, making Bitu-Ox 400 non-flammable and safe in extreme heat
It can be used as a release agent or daily cleaner on job sites
It prevents and loosens rust while leaving a protective coating to prevent future corrosion
It is 100 percent biodegradable and safe for waterways
It is available in 32 oz. bottles, 5 gal. pails or 55 gal. drums