We're excited to provide the readers of Industrial Distribution with the results of our 69th Annual Survey Of Distributor Operations. The objectives of this report, as always, have been to understand the most critical issues affecting distributors, and to provide data to help drive their educated business decisions. Through these findings, we'll discuss new and ongoing industry trends and what trends have fizzled. How has the ongoing industrial recession impacted distributors? Read on to find out.
In this online segment, we focus specifically on The Balance Sheet, which offers insights into revenues and profitability. This addresses areas of investment, concern and other analysis of factors impacting revenue.
Following steady recovery from the 2008-2009 Great Recession, the U.S. industrial economy had several years of stability until the start of 2015. Then things went way South. Oil prices took a nose dive, causing an overall weakened demand for industrial products that showed up in industrial distributors and manufacturers' 2016 first quarter fiscal earnings reports, and it's expected to continue throughout the year.
Because of this, the results of The Balance Sheet section of our survey were anticipated more than any other as they provide a look at how much the industrial recession has impacted the market as a whole. Many of Industrial Distribution's Big 50 List companies are publicly traded, so their quarterly earnings reports are publicly available. But finding revenues of smaller and independent distributors takes a lot more research. Two-thirds of our survey respondents — 66 percent — made under $100 million in 2014, and 47 percent made less than $20 million. Thus, this survey section provides a more accurate look at our audience as a whole, which is mostly comprised of small, regional industrial distributors.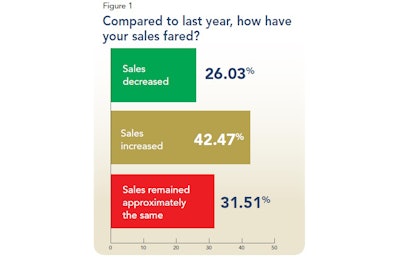 Though a dropoff in total distributor sales was expected, the size of the drop was still remarkable. Only 42.5 percent of respondents said that sales increased in 2015 compared to 2014 (Figure 1), down a whopping 27 percentage points from a year earlier. Twenty-six percent of respondents said that sales decreased, up 16 points, while 31.5 percent said sales remained about the same, up 11 points. With sales tied to profits, a similar net income dropoff was expected as well (Figure 2). Nearly 27 percent of respondents said profits decreased in 2015, up 13.5 points from a year ago. Those who saw profits increase had a 16 point drop to 45 percent, while respondents that had profits stay the same increased nearly 5 points to 28 percent.
According to our survey, industrial distributors aren't as optimistic about the rest of 2016, either. At 63 percent, respondents still expect sales to increase this year, but that's 14.4 points lower than last year's survey. Nearly 28 percent expect sales to be about the same, up 12.4 points from last year, while the amount who expect sales to decrease from 2015 went up nearly 2 points to 9.1 percent.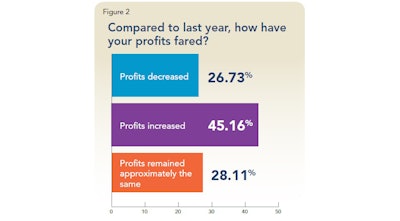 With demand down for a lot of the products industrial distributors carry, how do these distributors expect to grow their business during these tough times? According to our survey, getting in front of end markets is still the top method (Figure 3). Able to check all options that apply, 55 percent of respondents chose advertising/marketing as the top tactic for growth and business development, down 1 point from a year ago. Improve/redesign website was No. 2 again, climbing almost a point to 48.4 percent, while selling more via web/e-commerce was a close third at 47 percent. Driving traffic to website also rose nearly 5 points to 39 percent. The numbers for these four tactics show that distributors are very much focused on their online presence, recognizing the value of having a customer-friendly website.
Even more interesting was the size of the declines in some growth tactics. Growing product lines had a 6.2 point drop, going from a close fourth last year to a distant fourth this year at 39.5 percent. This is likely the result of distributors consolidating product lines to put more emphasis on their top sellers during this period of weakened demand. The tactics of hiring technical employees (28.8 percent) and overall hiring more employees (23.3 percent) saw considerable declines of 10 and 8.5 points, respectively — more evidence that distributors have tightened their wallets when it comes to the cost of operations. Likewise, 'setting up new branches' took a 5.5 point drop from last year to 16.3 percent.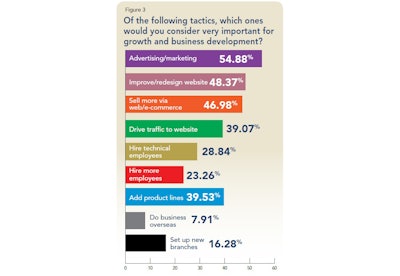 Lastly, our survey asked respondents to describe their timelines for receivables, with the results consistent with the past few years:
2.28 percent said <15 days (-1.8 points from 2015)
20.1 percent said 16-30 days (+3.4)
40.2 percent said 31-40 days (no change)
28.8 percent said 41-50 days (-1)
8.2 percent said (61-90 days) (no change)
0.5 percent said 90+ days (+1)
Want to compare this year's results to last year? See our 2015 survey here.
Methodology
The results of this study are based on an email survey sent to Industrial Distribution subscribers. Recipients of the survey were offered an incentive to complete the questionnaire. Industrial Distribution's subscriber base is comprised of 30,000 readers, the majority of whom identify as executive, upper management, sales or sales management. Results are based on a pool of respondents within this subscriber base.
Because Industrial Distribution transitioned to a new publisher in 2010, no survey was conducted that year. Therefore, results which track comparisons over the past decade will reflect a gap between 2009 and 2011.
Comments on this year's results? Email ID's editor, Mike Hockett, at Mike.Hockett@advantagemedia.com