We're excited to provide the readers of Industrial Distribution with the results of our 69th Annual Survey Of Distributor Operations. The objectives of this report, as always, have been to understand the most critical issues affecting distributors, and to provide data to help drive their educated business decisions. Through these findings, we'll discuss new and ongoing industry trends and what trends have fizzled. How has the ongoing industrial recession impacted distributors? Read on to find out.
In this online segment, we focus specifically on Challenges, Trends & Economy, which outlines the initiatives distributors are undertaking to address key business and market concerns. This also covers mergers and acquisitions and how distributors view the impact of the economy.
The industrial economy has seen its most challenging conditions over the past 18 months since the Great Recession of 2008-2009. The biggest factor has been oil prices plummeting to levels unseen since 2003, due to an overabundance of supply. As a result, widespread weakened demand of industrial products has led to distributors seeing large declines in quarterly sales and profits ever since the start of 2015.
Crude oil registered at $107 per barrel in June 2014, beginning a rapid drop to $48 just six months later. Oil dropped consistently further, reaching below $27 this past January and February.
Oil isn't the only factor to blame, though, as the strong U.S. dollar has created negative currency exchange headwinds for industrial distributors that sell their products abroad.
The overall result has been a gloomy past year across the market. The vast majority of the time Industrial Distribution has reported on the quarterly fiscal results of one of its 2015 Big 50 List companies, it's largely been the same story: sales and profits are down — and worse yet — their outlook for the rest of 2016 is pessimistic as well.
In light of the current and forecasted industrial economic conditions publicly traded industrial distributors have restructured their organizations — selling off subsidiaries and/or less profitable ventures to focus more on core businesses. Others have physically slimmed down, closing or consolidating branches and reducing employee headcount.
This was especially evident in two of the most well-known U.S. industrial distributors: Grainger and Fastenal. Grainger said it closed 49 branches worldwide throughout 2015, and plans to close another 55 throughout 2016. Fastenal said that during its 2015 fourth quarter, 37 of its top 100 customers were down 10 percent in sales year-over-year, with 22 of those companies down by more than 25 percent.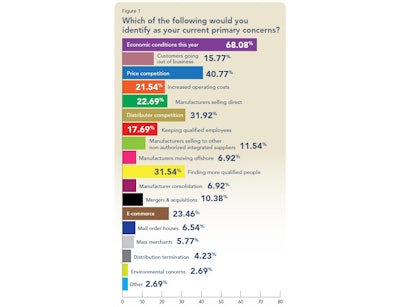 The industrial recession was largely reflected in this year's survey. Asked to choose their top three concerns (Figure 1), economic conditions was respondents' top choice by a wide margin. Sixty-eight percent of respondents said economic conditions were top of mind, up nearly 20 percentage points over 2015. Price competition — the top concern for the past two years — dropped nearly 13 points to 41 percent, while distributor competition was the No. 3 concern overall at 32 percent, down 5.5 points from a year ago.
While economic conditions are concerning distributors more than ever, it's the opposite for a couple of internal business operations. The concerns of increased operating costs fell 4.6 points to 21.5 percent of respondents, and 'keeping qualified employees' went down seven points to 17.7 percent.
Concerns about e-commerce — always a topic of discussion among the Industrial Distribution audience — continued its steady climb to 23.5 percent, up 3.8 points from a year ago and nearly seven points from 2014. In 2009, only 10 percent identified e-commerce as a top concern.
Asked to pick their primary growth strategies, respondents' top choices didn't show much variation from recent years. Growing sales among existing customers was the top choice, down nearly 2 points at 75 percent. After that, familiar methods of adding to customer base (65.3 percent) and taking market share from specific competitors (34.8 percent) were next in line with only marginal differences from a year ago. Worth noting is that 'train existing salespeople' fell 7.5 points from a year ago.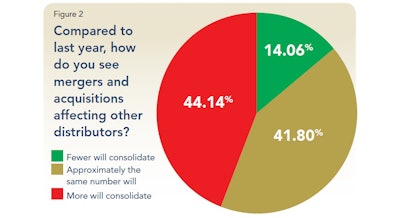 Consolidation across industrial distribution has been a prominent topic of discussion in recent years, which have involved a record amount of industrial mergers and acquisitions for both distributors and manufacturers. During these tough economic times, many companies like to be conservative and wait it out until conditions are right to purchase another company or expand.
On the other hand, some companies see a recession as an opportunity to leapfrog conservative competitors and incur acquisition costs now with the hope that they pay off when conditions improve. The amount of our survey respondents who said they were merged/acquired or at least approached to do so in the past year was 31.2 percent, up 4.6 points from 2015. Meanwhile, 44.1 percent said they expect increased consolidation amongst distributors, up 6.4 points (Figure 2).
It appears that distributors may be giving into the consolidation movement, as the amount of respondents who said they would be agreeable to a buyout increased 9.3 points from last year to 31.8 percent (Figure 3). This is contrasted, however, by a nearly three-point drop in the respondents who said they are actively looking to purchase another distributor (32.1 percent).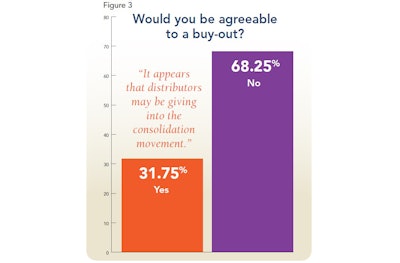 Want to compare this year's results to last year? See our 2015 survey here.
Methodology
The results of this study are based on an email survey sent to Industrial Distribution subscribers. Recipients of the survey were offered an incentive to complete the questionnaire. Industrial Distribution's subscriber base is comprised of 30,000 readers, the majority of whom identify as executive, upper management, sales or sales management. Results are based on a pool of respondents within this subscriber base.
Because Industrial Distribution transitioned to a new publisher in 2010, no survey was conducted that year. Therefore, results which track comparisons over the past decade will reflect a gap between 2009 and 2011.
Comments on this year's results? Email ID's editor, Mike Hockett, at Mike.Hockett@advantagemedia.com