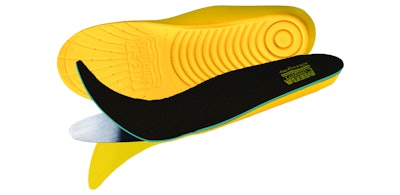 TUSTIN, CA — MEGAComfort, an international provider of ergonomically designed anti-fatigue insoles and orthotics has launched their new and improved Protection Line in Canada at the Partners in Prevention Trade Show in Toronto that began April 26, and will launch in the USA at the ASSE Conference in Atlanta, GA in June.
MEGAComfort prides themselves on the use of state-of-the-art-technology, encompassing ergonomic principals in each of their product categories. The launch of their new and improved protection line includes completely redesigned puncture resistant insoles and steel toe overshoes.
The new and improved puncture resistant (PAM-PR) insoles have been uniquely re-designed to provide greater heel and arch support, and superior shock absorption and comfort using MEGAComfort's Patented Dual Layer Memory Foam Technology. A flexible steel plate made from US Steel meeting and exceeding ASTM F2413-11 standards will be securely placed between the memory foam to prevent plate separation.
MEGAComfort's innovative newly improved steel toe overshoes will now be made in North America using North American raw materials, eliminating the need for any additional duty fees, making them a higher quality product and more cost effective.
Both products will be available for sale through MEGAComfort's network of Independent and National Distributors worldwide including the USA and Canada.
Up until now, MEGAComfort USA has sourced overshoes and PR Insoles through Swenco Limited, a Canadian developer and producer of OEM safety sole plates for the footwear industry.
MEGAComfort Founder, CEO and leader in the field of Podiatric Medicine, Dr. Kevan Orvitz commented, "MEGAComfort's mission is to create and market health and safety products which are not "me-too" products, but are superior and more employee and cost–effective to what is currently available in the marketplace. As a result, we are very proud of the many enhancements in these two product upgrades."
MEGAComfort supports all their product lines through an experienced and knowledgeable team of manufacturers' sales representatives located throughout the US and Canada, in addition to a dedicated in-house sales teams that focuses on their relationships with end clients to refer business back to MEGAComfort's Distribution.