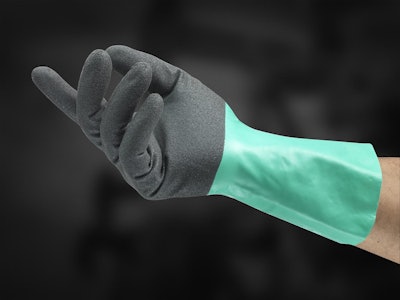 ISELIN, NJ — Ansell, a global provider of protection solutions, has introduced the newly designed AlphaTec 58-128, the first ergonomically certified chemical glove. Equipped with Ansell ERGOFORM Ergonomic Design Technology, the light duty chemical glove maximizes worker productivity by minimizing hand fatigue and discomfort. The glove delivers high-performance musculoskeletal support and reduces the risk of ergonomic injury caused by prolonged or repetitive manual tasks while providing protection against irritant contact fluids found in the workplace.

The AlphaTec 58-128 combats hand discomfort through ergonomic construction combining a flexible open weave knit liner and stretchy nitrile formulation coating to provide better dexterity and tactility for prolonged periods of wear for the worker. Designed to maintain a level of comfort, the glove conforms to the shape of the wearer's hand, enabling natural movement and reducing hand fatigue.

In addition to ERGOFORM, AlphaTec 58-128 is designed with Thin Nitrile Technology to provide a barrier for superior hand protection against oils and other irritant fluids, including selective chemical risks with forearm splash protection. The glove also features ANSELL GRIP Technology, which offers more precise handling of small oily or wet parts, helps to relieve hand fatigue and improves dexterity, safety and productivity.

Ansell AlphaTec 58-128 gloves are available in five sizes, and are ideal for a number of industries, including chemical, machinery & equipment, metal fabrication, automotive and agriculture.