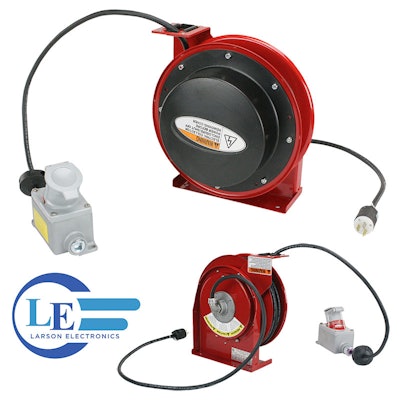 Larson Electronics continues its commitment to providing high grade lighting equipment to specialty markets with the release of an explosion proof tool tap reel with a single twist lock receptacle.
The EPLRT-50-12.3-GCR explosion proof tool tap from Larson Electronics provides easy management of an included 50' of SOOW cord which gives operators in hazardous locations the ability to easily extend the working reach of tools and lighting equipment. This general area cord reel is fitted with fifty feet of 12/3 AWG SOOW cord and includes a Class 1 Division 1 twist lock receptacle. This industrial grade reel is built with modular components, coupled with a ratchet and slip ring housing. The cord is fed onto the steel reel assembly through a 4 roller adjustable cable guide with a ball stop. It includes an integral spring actuated ratcheting mechanism for positive cord management housed within the slip ring enclosure. This unit is suitable for indoor and outdoor use, but must be installed outside of the hazardous location. This explosion proof tool tap is ideal for use with drop lights and tools in locations where connection to fixed receptacles is unavailable or impractical, and safely extends the operational range without creating the hazards associated with cords being strewn about the work space. Larson Electronics customizes general and explosion proof cord reels for many applications.
"This cord reel features 50' of SOOW cord and a single explosion proof receptacle that is deep recessed to avoid accidental contact and will not be energized by non-explosion proof plugs which preserves protection in hazardous locations," said Rob Bresnahan with Larsonelectronics.com. "This cord reel is not designed for use within the hazardous location and must be mounted outside of the work area."
Larson Electronics specializes in portable industrial lighting equipment, high mast light towers, explosion proof light fixtures, power distribution systems, LED lighting and more. To view their wide range of products, visit them on the web at Larsonelectronics.com or call 1-800-369-6671 for more information. Larson Electronics will be attending the 2016 OTC show in Houston, Texas from May 2nd to May 5th. Visit them at booth 6716 to inquire about their lighting solutions for many industrial applications.