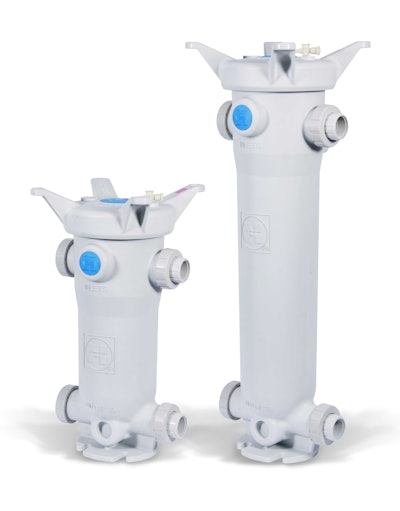 Clemmons, NC - Hayward Flow Control announces the launch of the new FLV Series Filters, the most advanced all thermoplastic bag filter built today. The FLV features a one-piece injection molded platinum GF-PP (Glass Filled Polypropylene) body in sizes 1 (16") and 2 (32"). Unlike traditional metal and plastic filters, the FLV offers a True-Union design for multiple end connections and sizes as well as quick installation or removal. Available size range of 1-1/4" through 4" in socket, threaded, and flanged connections, as well as optional drill and tap NPT (Offset) ports for interchangeability with existing installations The FLV can be ordered as a Simplex through Quadplex unit. The Filter vessel features a pressure rating of 150 psi / 10 bar Non-Shock at 70ºF for all sizes, and a service temperature of up to 240°F / 116°C.

Key Features Include:
Hand Removable, Ergonomic Cover with Liquid Displacing Dome
100 GPM Flow Capacity Sizes 1-1/4" to 2" and 150 GPM for Sizes 2 ½" to 4"
PVC and CPVC socket ends; and GFPP threaded and flanged Connections
Hinged Basket Design for Easy Bag Removal
In-Line or Loop Flow Configurations
Vent Valve Included on Cover
Drain Port on Bottom
Integral Mounting Base
Made in the USA
For more information, visit www.haywardflowcontrol.com.