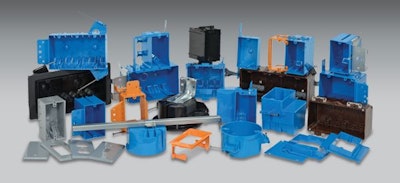 Carlon Recessed Dual Voltage 3-Gang Old Work Plate Simplifies Flat-Panel Display Installation
Memphis, TN – The Carlon® Recessed Dual Voltage (RDV) 3-Gang Old Work Plate from Thomas & Betts has been designed to make installing wall-mounted flat panel displays easier and faster. Designed to accommodate the high- and low-voltage wires, cables and cords used with flat-panel display installations, the Carlon RDV 3-Gang Old Work Plate features a two-gang, low-voltage opening and a one-gang opening for a Carlon B114R or B120R old work box (not included). The Carlon RDV 3-Gang Old Work Plate has an exclusive template feature to facilitate mounting. A ridge on the front of the panel, when placed against the drywall and tapped with a hammer, provides a template for accurate cutting of the box opening. The plate has a high-gloss, recessed design that blends with any décor and conceals unsightly wires, cables, cords and plug heads. The Carlon RDV 3-Gang Old Work Plate design combines a pre-assembled box and frame that reduces installation time and saves cost. It also includes four swing-out clamps that lock the plate securely to the wall and offers a horizontal or vertical mount. The Carlon RDV 3-Gang Old Work Plate features a shallow design that provides ample room behind drywall and between studs, while accommodating cable bend requirements. Constructed of ABS (acrylonitrile butadiene styrene) for strength, it is lightweight and easy to handle.
For more information, visit www.tnb.com.