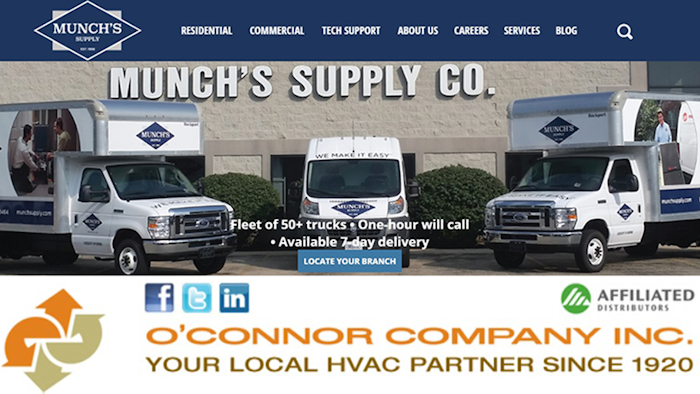 NEW LENOX, IL — Munch's Supply LLC, a heating, ventilation and air conditioning (HVAC) distributor and third-generation family business operating 12 branches in Chicago, Northwest Indiana and Michigan, has acquired Kansas-based O'Connor Company, Inc. The move expands Munch's distribution footprint to include six additional branches serving portions of Oklahoma, Kansas, Nebraska, Iowa and Missouri.
"The O'Connor purchase is part of Munch's long-term strategy to aggressively grow into other regions through strategic acquisitions," said Munch's CEO Robert Munch. "We are excited to welcome O'Connor's customers and employees. Superior, award-winning customer service will remain our number-one priority."
O'Connor will continue to operate under the same name as an independent company and will retain its current management team with Executive Director of Operations, Greg Borr stepping into the role of President. It will maintain locations in Lenexa, Kansas; Urbandale, Iowa; Omaha, Nebraska; Wichita, Kansas; Tulsa, Oklahoma and Lee's Summit, Missouri.
"We are looking forward to sharing in the resources and leadership of Munch's Supply," Borr said. "We are pleased to combine our strengths to further enhance customer service in our rapidly-growing marketplace."
"We were impressed with O'Connor's strong market position, rich, 97-year history and commitment to the Trane and American Standard brands in HVAC distribution," Munch added. "Lynn Piller and the O'Connor team have done a fantastic job building a solid and successful operation with superior commitment to its family of contractors."
The union of these two companies demonstrates Munch's ongoing commitment to the HVAC marketplace and sharpens its portfolio to deliver sustainable growth while maximizing the potential of both brands. Munch and O'Connor will combine to operate 18 branches in eight states.
Stocking more than 10,000 SKUs per location, Munch's goal is to be a full-service, "one-stop-shop" for busy HVAC dealers and contractors.
Munch's Supply has been operating in the Chicagoland area since 1956. Rotunda Capital Partners, a private equity firm focused on lower middle-market and family-owned holdings, acquired a majority stake in Munch's in 2015. Munch's expanded to Michigan with three branches in 2015, another in Northwest Indiana in 2016 and Elgin, Illinois in 2017.