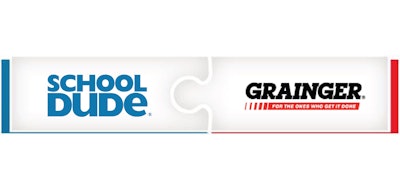 CHICAGO — Grainger and SchoolDude on Tuesday announced the Click2Buy solution, a new and efficient way to help educational institutions better manage workflow when purchasing products used to maintain, repair and operate their facilities.
The Click2Buy solution is cloud-based and helps customers in the education industry automate the purchase process, from request to procurement to payment to closeout.  In addition, Click2Buy is designed to work across multiple departments without affecting each group's required workflows.
"Customers at educational institutions face daily challenges of addressing maintenance routines, responding to repair requests, acquiring supplies and reconciling expenditures," said Geoffrey Robertson, Vice President of Product, Innovation and Business Integration with Grainger.  "Traditionally, these have been disjointed processes resulting in lost time and money, often leading to frustration and inconsistency of information.  With Click2Buy, procurement and work order management are combined into one automated solution, which allows these customers to spend more time focused on maintaining their schools and campuses, and less time on paperwork."
Click2Buy benefits include the following:
Cloud-based solution, with no software to download or maintain;
Automated and standardized integration of work orders, purchase orders, invoicing and payment;
Tracking with the ability to add financial designations, such as account codes, cost centers, blanket purchase orders and budget codes;
Spend controls with minimums, maximums and hierarchy approval; and
Configurable reporting capabilities.
"SchoolDude and Grainger came together and really put educational institutions front and center in developing the Click2Buy solution," said Lee Prevost, Chief Strategy Officer and Co-Founder with SchoolDude.  "SchoolDude currently works with more than 6,500 school districts, independent schools, colleges and universities nationwide implementing our maintenance management platform.  Through Click2Buy, these SchoolDude customers can gain 'point-and-click' access to Grainger's more than 1.5 million products.  They then can place orders and have the orders automatically linked to their work order management process without the need for time consuming and inefficient data entry work."
The Click2Buy solution is offered in three options depending on a customer's existing procurement platform and purchasing needs.
To learn more or request a free product demonstration, visit www.schooldude.com/grainger. In addition, those attending the 2016 Grainger Show can participate in a Click2Buy session on Wednesday, February 10.