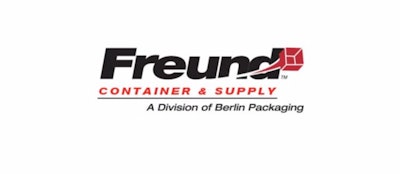 Lilse, IL-based Freund Container & Supply, a supplier of packaging and industrial supplies, on Tuesday announced the opening of a 45,000 square foot warehouse in Atlanta, aimed to provide faster and lower-cost delivery to customers in the U.S. southeast.
The Atlanta facility adds to Freund's warehouse locations in Streater, IL and Sparks, NV. Freund is a division of Berlin Packaging.
Located a few miles from Hartsfield-Jackson Atlanta International Airport, the new facility joins Freund's warehouses in Illinois and Nevada. The company says the Atlanta DC will reduce freight costs 50-60 percent compared to shipping goods from Illinois, and shorten delivery time to two days or less for most southeast customers.
The new facility stocks a selection of plastic, glass, and metal containers from more than 260 manufacturers, high-performance packaging, and a wide range of industrial supplies including pails, drums, and boxes for MRO applications.
"The Southeast is a growing market for packaging and one that is underserved by stocking container distributors that can ship off-the-shelf solutions on a same-day basis," said Chris Hiller, General Manager of Freund Container. "With Atlanta as our new hub in the region, we can now meet that need, decrease transit time and costs, and help customers keep their businesses on track – whether getting containers and closures to their filler or pails, brooms and safety glasses to their maintenance crews. This new warehouse is another example of how we're investing to provide the best products and service to our customers."