The Industrial Supply Association released its December Economic Indicator Report on Tuesday, which showed further declines for its manufacturer and ISM Purchasing Managers Index (PMI), but showed considerable improvement for its distributor index.
ISA's manufacturer index dropped for a third month in a row, from 54.5 in November to 52.3 in December. The PMI dropped from 48.6 to 48.3. ISA's distributor index had a healthy gain, improving from 54.2 in November to 60.2 in December.
"These conflicting signals indicate a mixed impact of the slowdown of an otherwise expanding economy, on different business segments," ISA said in its report.
For each index, a reading above 50 percent indicates expansion, while a reading below 50 percent indicates contraction. All three indexes had been above 50 percent since December 2012, until the PMI's streak snapped last month.
The distributor index was a good rebound to end an inconsistent year that readings of at least 63.0 in five different months, including a high mark of 66.8 in March. The year also included three monthly readings of below 58.0, including a low mark of 54.2 in November. The manufacturer index likewise was up-and-down, including a low mark of 50.7 in May and a high of 66.8 in October.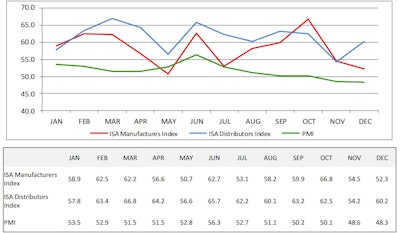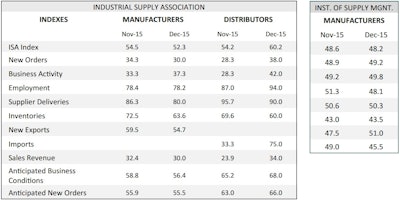 From November to December, distributors saw considerable increases in New Orders, Business Activity, Employment, Imports, and sales, while Supplier Deliveries and Inventories saw declines.