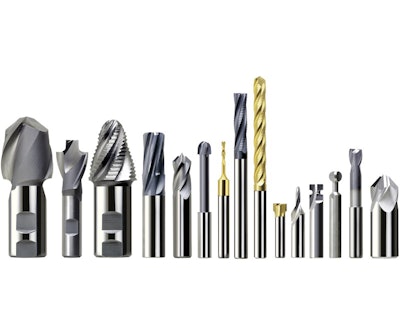 MCLEAN, VA — November U.S. cutting tool consumption totaled $153.7 million, according to the U.S. Cutting Tool Institute (USCTI) and AMT – The Association For Manufacturing Technology. This total, as reported by companies participating in the Cutting Tool Market Report (CTMR) collaboration, was down 13.0 percent from October's total, down 11.3 percent from November 2014 and down 4.1 percent when compared year-to-date in 2014.
These numbers and all data in this report are based on the totals actually reported by the companies participating in the CTMR program. The totals here represent the majority of the U.S. market for cutting tools.
"Caution is the word for the start of 2016," says Brad Lawton, chairman of AMT's Cutting Tool Product Group. "The continuation of negative performance as the figures show plus the global tensions of China's economy and the rising value of the dollar dampen the industry's thoughts of improvement."
As China's economic growth slows, industries continue to be affected by the disruption causing a downturn in production, consumption and investments. In regards to the oil and gas industry, Tanya Bodell, Executive Director at Energyzt states that "The combination of low economic growth worldwide, but especially in China, combined with continued oil production has created a glut in oil supply that could continue to depress investment for at least the next year."
The Cutting Tool Market Report is jointly compiled by AMT and USCTI, two trade associations representing the development, production and distribution of cutting tool technology and products. It provides a monthly statement on U.S. manufacturers' consumption of the primary consumable in the manufacturing process – the cutting tool. Analysis of cutting tool consumption is a leading indicator of both upturns and downturns in U.S. manufacturing activity, as it is a true measure of actual production levels.