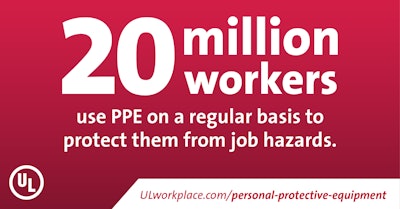 FRANKLIN, TN — UL Workplace Health & Safety, a provider of workplace health and safety solutions, has released a complimentary training course on personal protective equipment (PPE).
The course, part of UL Workplace Health & Safety's comprehensive and award-winning online eLearning library, provides information on the different types of PPE, a worker's responsibility for PPE usage, how to select the appropriate PPE for different hazards, and the principles of proper PPE use, care, and maintenance. This internationally-relevant course depicts global safety best practices and can be played on a variety of platforms including PCs, laptops, tablets, and smartphones. It is designed in HTML5, the latest version of the coding language, and being released in conjunction with the Association for Talent Development (formerly ASTD) TechKnowledge conference on January 13-15, 2016.
"Personal protective equipment is a crucial component in workplace health and safety," said Mark Ward, General Manager of UL Workplace Health & Safety. "Respirators, hard hats, eye protection, and ear plugs are some very common PPE that are not always used consistently or correctly. Workers don't always know how to use PPE or why they should. This free training course provides valuable knowledge that can help reduce injuries and save lives."
UL was founded in 1894 with the specific mission to improve safety and reduce injuries. Over the last 120 years, it has grown into one of the most trusted safety science companies in the world. The course will be offered through UL Workplace Health & Safety's website here.