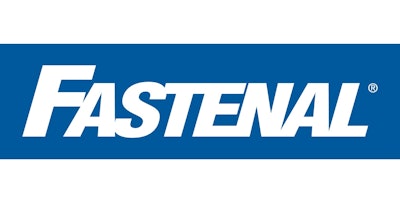 Winona, MN-based Fastenal reported its 2015 fourth quarter and full year financial results on Friday, and has named an interim chief financial officer.
In a Thursday filing, Fastenal said that Chief Accounting Officer Sheryl Lisowski has been appointed the role of interim CFO, and will serve until the company can find a permanent CFO. Lisowski has been Fastenal's controller and CAO since October 2013. Lisowski, 48, joined the company in 1994.
Fastenal – No. 12 on Industrial Distribution's 2015 Big 50 List – reported flat Q4 sales of $922.8 million, down 0.4 percent from a year ago, and down 7.3 percent from Q3. Daily sales in Q4 were down 2.0 percent year-over-year. The company's Q4 profit of $111.9 million was down 5.5 percent from a year ago, and 18.0 percent from Q3.
For the full year, Fastenal's 2015 sales of $3.87 billion were up 3.6 percent from 2014's $3.73 billion, while 2015 profit of $516.4 million was a 4.5 percent gain over 2014's $494.2 million.
Friday's report comes just two weeks into the CEO tenure of Dan Florness, who began at his position on Jan. 1 as Fastenal's third CEO change in less than a year.
Fastenal said it was hid hard in 2015 by an industry-wide business slowdown with customers connected to the oil and gas industry, and currency headwinds impacted by the strong U.S. dollar.
"In late November 2015, and even more so in late December 2015, we experienced a greater frequency and longer duration of customer plant shutdowns related to the holiday season," the company said.
Fastenal said that during Q4 it decided to terminate its manufacturing joint venture in Brazil and settled several unrelated disputes.
On the positive side, Fastenal added 1,668 people into its stores during 2015 and 2,329 employees overall. Its overall full-time headcount ended 2015 up 10.2 percent YOY.
Fastenal expects to open 60 to 75 new stores in 2016 after closing or consolidating 50 stores in 2015 and opening 41. Fastenal said it signed more new national accounts in 2015 than in 2014, and signed 82 new Onsite customer locations (sales and service provided from within a customer's facility). In Q4 Fastenal converted approximately 800 stores to its new merchandising footprint - Customer Service Project 2016. The CSP 2016, announced at Fastenal's Investor Day in November, expands inventory placement at its stores to enchance same-day capabilities.
Fastenal's said that its Fastener sales, which had 10 percent growth during the second half of 2014, had 6 percent contraction during Q4 2015. Likewise, its non-fastener product line has gone from 18 percent growth in the second half of 2014 to 1 percent growth in Q4.
As of Dec. 31, Fastenal's installed vending device count of 55,510 was an increase of 18.5 percent YOY. The company installed 4,016 devices during Q4, roughly the same as Q4 2014. Fastenal said 43.9 percent of its total Q4 net sales were to customers with industrial vending grew 0.7 percent YOY. Daily sales of fastner products to customers with vending contracted 7.9 percent in Q4, while daily sales of non-fastener products grew 3.6 percent.
In December, Fastenal's daily sales decreased 3.8 percent, its fourth straight month of decline, and largest of the four, up from November's -1.1 percent. The company's sales growth peaked at 17.4 percent in December 2014, and its year-long steady decline started one month later in January 2015.