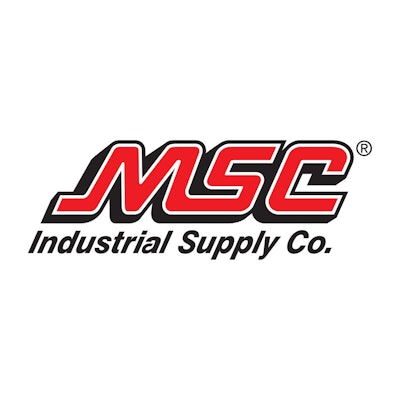 MSC Industrial – No. 14 on Industrial Distribution's 2015 Big 50 List – reported its 2016 fiscal first quarter earnings on Wednesday for the period ended Nov. 28, 2015.
The company posted Q1 sales of $706.8 million, down 3.3 percent year-over-year, while its profit of $55 million was down 4.2 percent.
In Q4, MSC had sales of $727.4 million and a profit of $59.2 million.
"Our fiscal 2016 first quarter performance reflected continued share gains, sustained gross margin stabilization, and another quarter of strong expense controls in an increasingly challenging market environment," said Erik Gershwind, MSC President and CEO. "Ongoing lower oil prices, the strong U.S. dollar with its negative effect on export demand, and the soft pricing environment driven by low commodity prices all continue to negatively impact broader manufacturing activity."
MSC's monthly sales in the quarter were as follows: September - $279.3 million, October - $225.0 million, November - 202.5 million. It's estimated December sales were $228.3 million. Average daily sales growth declined by 1.2 percent in September, 3.4 percent in October, 5.9 percent in November, and an estimated 1.5 percent in December. MSC has had declining year-over-year monthly sales each month dating back to July 2015.
Geographically, MSC's Q1 sales declined year-over-year in all regions, as follows:
Midwest -3.1 percent
Northeast -0.3 percent
Southeast -3.7 percent
West -2.2 percent
International & Other - 18.4 percent
Q1 sales to manufacturing customers declined by 4.9 percent, and increased 1.3 percent to non-manufacturing customers. Manufacturing customers comprise 69 percent of MSC's sales.
MSC's e-commerce sales in Q1 2016 were $403.2 million, which was 57.0 percent of overall sales. That's up from 56.6 percent in Q4 2015.
Total MSC headcount declined by 0.8 percent in Q1 to 6,586, with the number of field sales and service personnel nearly identical to last quarter.
The company is expecting further sales declines in Q2. MSC said it projects Q2 sales to be between $680 million and $692 million, with daily sales expected to decline roughly 3 percent at the midpoint. Q2 2015 had sales of $706.4 million, and a profit of $51.5 million.