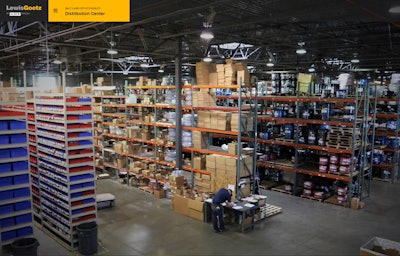 SALT LAKE CITY — Lewis-Goetz has opened a new distribution, production, and service center in Salt Lake City. With more than 40 employees, the campus is designed to help customers achieve peace of mind by meeting their needs and resolving pain points.
The service center brings three Lewis-Goetz category leaders, Valley Rubber and Gasket, Evco House of Hose, and Advanced Sealing, together on one campus. The campus is comprised of two facilities: a 53,000 square-foot facility with 24 employees; and a 56,000 square-foot building with 17 employees. Operations between the two buildings include a distribution center, metal hose shop, laser engraving station, custom hose fabrication, large- and small-bore hose fabrication, hydrostatic testing, over-the-counter sales, gasket manufacturing, and an industrial sew shop.
"At Lewis-Goetz we have the most valuable and knowledgeable associates in the industry who work every day to help our customers reach their goals," said Don Evans, president and CEO of Lewis-Goetz, an ERIKS Company. "This new facility marks a physical space designed to help our associates achieve that mission through best-in-class equipment, practices and processes."
ERIKS nv is No. 17 on Industrial Distribution's 2015 Big 50 List.
A virtual tour (found at http://www.lewis-goetz.com/customer-solutions/utah-virtual-tour/) featuring photography and behind-the-scenes information, is now available to help Lewis-Goetz customers better understand how the facilities can work for them.