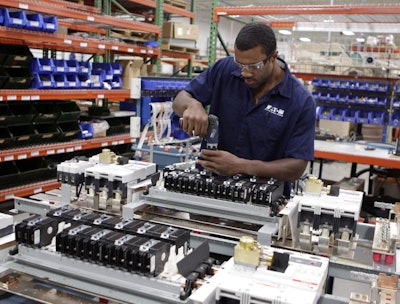 Nearly all of the nation's largest publicly traded manufacturers cite the labor force as a risk to their businesses, according to a recent report.
The latest annual Manufacturing RiskFactor Report from accounting company BDO showed 98 of those top 100 companies identified labor concerns or pensions on recent filings with the U.S. Securities and Exchange Commission.
That total increased slightly compared to last year's report, when the number jumped up from 75 companies in 2013.
BDO analysts said manufacturers must address difficulty in attracting new workers as well as the current workforce trending toward retirement.
"Thanks to the resurgence, manufacturers are on even economic footing and as a result are growth-focused," said Rick Schreiber of BDO USA. "However, the challenge remains of filling their talent pipeline in order to pursue these expansion goals and drive the innovation that is needed to remain competitive in a global economy."
Labor risk, however, was just one of several factors to leap toward the top of the BDO list over the last two years.
In the 2013 report, 57 of the top 100 companies listed litigation as a risk factor; that number now stands at 95.
Also in 2013, 74 companies expressed concerns about implementing corporate strategies, 73 identified currency as a risk and 68 cited interruptions such as natural disasters or terrorist attacks. This year, those numbers climbed to 91, 88 and 87 companies, respectively.
Distribution issues and government regulations topped the list of risk factors again in 2015, with all 100 companies identifying those issues on SEC filings.
Weather and supply chain disruptions particularly impacted businesses early this year after brutal winter weather — including record snowfall on the East Coast — and a prolonged labor dispute that created a backlog of cargo on the West Coast.
Read more about protecting people, reducing liability risk and opening new markets.