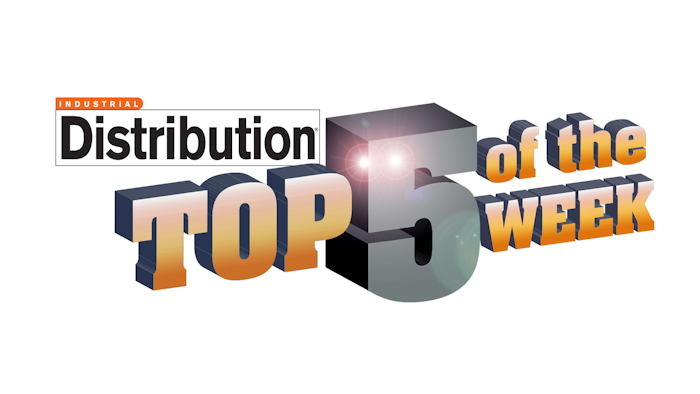 A forklift accident that killed a man at a Illinois Fastenal facility on Tuesday was by far the biggest news item on ID over the past week, while acquisition and fiscal news regarding Motion Industries were also popular.
Here's this week's Top 5
Illinois Man Dies In Forklift Accident At Fastenal: A man died Tuesday from a forklift accident at Fastenal's facility in Belvidere, IL. The Rockford Register Star reports that shortly after 11 a.m. Tuesday, 36-year-old Chris Thick of Fairdale, IL drove a forklift onto a flatbed truck, parked it, and jumped to the ground. The forklift then slid backwards, off the truck and struck Thick, who was pronounced dead at Saint Anthony Medical Center from blunt head trauma. The Register Star said the accident is under investigation of the Belvidere Police Department.
Motion Industries To Acquire Missouri Power Transmission, One Other By March 1: Thomas Gallagher, chairman and CEO of Genuine Parts Company, told analysts in a conference call Tuesday that Motion Industries, which comprises about 30 percent of the GPC's total revenues, will be closing on two acquisitions by March 1. The combined businesses, will have about $50 million in revenue. Gallagher didn't name the companies during the call, but on Wednesday Motion announced that one of them is Missouri Power Transmission, a St. Louis-based PT equipment and industrial supplies distributor since 1970.
F.W. Webb Wants To Build A 1 Million Square Foot DC In New Hampshire: Bedford, MA-based industrial distributor F.W. Webb is planning relocate its Amherst, NH distribution center to a massive new facility it will build in nearby Londonderry. F.W. Webb's director of marketing Alicia Criniti told the New Hampshire Union Leader that at 1 million square feet and a total project cost of $55 million, building construction is to begin in May in time for an opening some time during fall 2017.
Motion Industries Q4 Sales Down 8% From Last Year; EIS Sales Flat: Genuine Parts Company reported its 2015 fourth quarter and full year fiscal results on Tuesday, which included the sales and profit for its subsidiaries Motion Industries and EIS Inc. At Motion Industries – GPC's industrial business – Q4 sales of $1.1 billion were down 7.6 percent year-over-year, while operating profit was down 24.8 percent to $72.5 million. GPC said the sales decrease included an 8 percent decrease in organic sales and a negative 1 percent impact from currency headwinds. For the full year, Motion Industries' 2015 sales of $4.65 billion were down 2.6 percent from 2014, while operating profit of $339.2 million was down 8.3 percent.
At EIS – GPC's electrical/electronic materials business – Q4 sales of $177.2 million were nearly identical to the same period a year ago, while operating profit of $16.1 million was a 6.6 percent increase. GPC said the sales decline included a 2.5 percent decrease in organic sales, and a negative 1.5 percent impact from copper pricing, while acquisitions had a 4 percent growth impact. For the full year, EIS' 2015 sales of $750.8 million were up 1.6 percent from 2014, while operating profit of $70.2 million was up 8.1 percent.
Meet Ohio MRO Distributor MHS Industrial Supply (video): Learn the who and what of Mansfield, OH-based MHS Industrial Supply, a fourth-generation-owned small business that's been serving the community since 1940. MHS celebrated its 75th anniversary in 2015, doing so by opening its current 42,000 square foot facility. It was a major upgrade from its old 18,000 square foot space there in Mansfield.