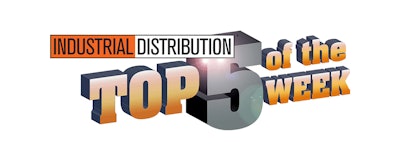 News of SunSource's major acquisition of United Distribution Group (No. 24 on Big 50) and Grainger's Q2 earnings report expectedly led traffic on ID this week, while a best practices piece about salespeople using LinkedIn also was well-read.
Here's this week's Top 5
SunSource To Acquire United Distribution Group: The industrial products received another shockwave on Wednesday, with news of the latest landmark acquisition. Addison, IL-based SunSource, a large distributor of fluid power products and fluid process technologies — announced that it has agreed to purchase Briston, TN-based United Distribution Group (UDG) — a diversified MRO products distributor that operates through two subsidiaries: GHX Industrial and United Central Supply.
How Distributor Salespeople Can Make LinkedIn Work For Them, Pt. 1: Mike Sawchuk explains how while LinkedIn is one of the most powerful "personal" marketing and selling tool ever created, it takes more than just listing your skills, education and work experience to make it your own personal sales machine.
Grainger Expects 2018 Sales To Top $11B As Medium Customers Continue Strong Growth: Grainger reported its 2018 Q2 fiscal results on Wednesday, showing that growth from medium-sized customers continues to power the company's year-over-year sales increases and leading it to raise the lower end of its full-year sales outlook to the $11 billion mark.
ID Quick Hits - Industrial Suppliers Feeling Effects Of Steel Tariffs: Last week's Quick Hits episode discussed how industrial suppliers and distributors are already feeling the effects of steel tariffs, looking at pros and cons.
Industrial Distribution's 2017 Big 50 List: We're now just a little more than a month from starting to unveil the 2018 ID Big 50 List, and naturally, last year's list will continue to see a traffic spike as we get ever closer to the new one.