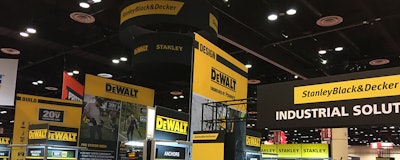 Industrial products manufacturing giant Stanley Black & Decker reported its 2018 second quarter financial results on Friday, led by continued double-digit sales growth year-over-year (YoY), including an acceleration in organic growth powered by its Tools & Storage segment.
The company posted total Q2 sales of $3.64 billion, up 10.9 percent YoY, and up 13.5 percent from Q1's $3.21 billion. SBD had approximately 7 percent organic sales growth in Q2, with strategic pricing actions responsible for 1 percentage point of that, volume comprising +6 percent, acquisitions at +3 percent and currency at +1 percent.
The company's Q2 profit of $293.6 million also improved from $277.6 million a year earlier and $170.1 million in Q1. Gross margin of 35.3 percent in Q2 was down from 36.9 percent a year earlier and 36.3 percent in Q1, while Q2 operating margin of 13.2 percent was down from 14.3 percent a year earlier and up from 11.8 percent in Q1.
SBD's Q2 sales and profit numbers both exceeded Wall Street expectations.
"The underlying markets remain healthy and provide a favorable backdrop as we execute our robust pipeline of organic growth initiatives: the Lenox and Irwin revenue synergies, FlexVolt, emerging markets, e-commerce and the rollout of the Craftsman brand," said James Loree, SBD president and CEO. "We will continue to evaluate further near-term capital allocation actions to create shareholder value including acquisition opportunities and incremental share repurchases, consistent with our long-term capital allocation strategy.
"We are at a moment in time when company-specific growth catalysts, which are as strong as any time in 20 years, enable us to vault over difficult prior year revenue comps. At the same time, we are operating with the agility required to successfully navigate through a growing series of exogenous shocks, including cost inflation, FX volatility and tariffs."
By business segment in Q2:
Tools & Storage sales of $2.57 billion increased approximately 11 percent YoY due to volume (+9%), price (+1%) and currency (+1%). All geographic regions ha growth, led by emerging markets at +17%, North America at +10% and Europe at +5%. "North America organic growth accelerated as new product innovation, including DEWALT FlexVolt, the initial rollout of the Craftsman brand, a recovery in outdoor products and pricing actions all delivered growth on top of a continued healthy U.S. tool market," the company said. Operating margin of 16.2 percent was down from 17.6 percent of a year earlier.
Industrial sales of $573 million increased approximately 14 percent YoY due to acquisitions (+11%) and currency (+3%). "Engineered Fastening organic revenues were +3% as significant automotive & industrial fastener penetration gains were partially offset by the anticipated impact from lower automotive system shipments," the company said. Operating margin of 16.8 percent was down from 18.8 percent of a year earlier.
Security sales of $503 million increased approximately 6 percent YoY due to acquisitions (+4%), currency (+3%) and price (+1), partially offset by lower volume (-2%). Operating margin of 10.0 percent was down 100 basis points from a year earlier.
Despite the strong overall YoY and sequential sales gains, SBD downgraded its previous 2018 outlook for a second straight quarter, citing its recently announced settlement with the Environmental Protection Agency to clean up a Superfund site. The company also noted foreign currency impacts and higher inflation expectactions from the impact of tariffs as negative factors toward its outlook.