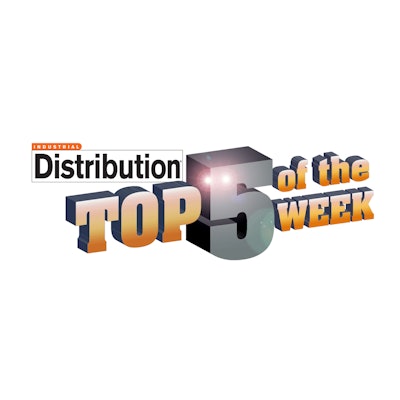 It's been another busy week of news for the industrial distribution market. Two distributor acquisitions and an article regarding supplier consolidation led traffic this past week, along with a recap of AD's annual Industrial North American meeting.
Here's this week's Top 5
Q&A - How Distributors Are Consolidating Suppliers: With distributors citing a lack of support and increased prices from suppliers, it's no surprise that many distributors have been consolidating their supplier base in recent years. Here, ID editor Mike Hockett speaks with Chris Baby, CEO of single-source supplier SureWerx on the evolving dynamics between distributors and suppliers and the outlook for consolidation.
Recapping the 2017 AD Industrial North American Meeting and Award Winners: More than 800 attendees were at this year's AD Industrial North American Meeting, held Sept. 17-20 in Grapevine, TX. See which companies and individuals received awards and honors at the event.
Ferguson U.S. Industrial Sales Down Slightly In 2017, Improve In 2nd Half: London-based Ferguson — formerly Wolseley — shared its full year 2017 fiscal results on Tuesday — showing that U.S. industrial sales were down slightly overall but improved throughout the second half of the period.
Lawson Products Acquires Calgary-Based The Bolt Supply House: ​The Bolt Supply House is a Canadian distributor of fasteners, power tools and industrial MRO supplies with annual sales of about $34 million across 13 branch locations. It marks Lawson's fifth and largest acquisition in 24 months.
Distributor Airline Hydraulics Corp. Appoints New CEO: Bensalem, PA-based Airline Hydraulics, a distributor of fluid power, automation, electrical control, safety products and engineered systems, has appointed 22-year company veteran Mark Steffens as its new CEO, effective Sept. 14.